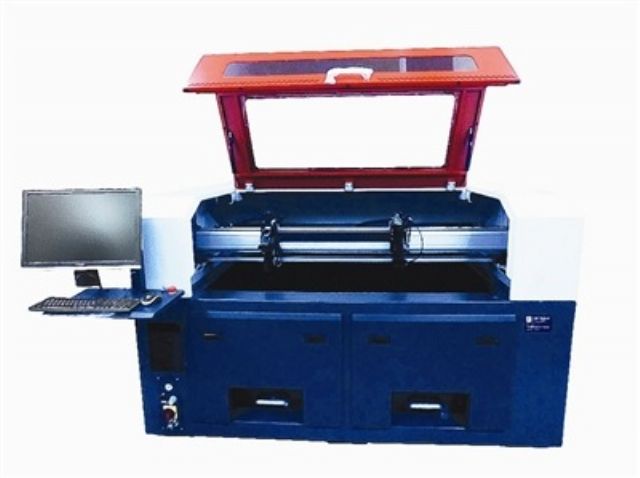 Chia Hsing's Laser Covo dual-head laser cutter (photo courtesy of Chia Hsing).
Chia Hsing International Technology Co., Ltd., a laser cutting and engraving specialist, has just unveiled its newest laser cutter "Laser Covo" for sale in 2016.
This machine features higher cutting speed than competing models mostly thanks to its dual cutting heads with independent power sources, a design that enables asynchronous and synchronous movement of the cutting heads with incredible dexterity, reduces the need for frequent maintenance, and doubles output with high quality. Also, Laser Covo ensures clean-cut edges of sheets of leather, paper and TPU materials without causing damages.
President S.F. Chong of Chia Hsing notes that Laser Covo is applicable to the cutting and engraving on a variety of materials, including leather, cloth, wood, acrylic, PU, TPU, PET, etc., ideal for use in production and processing of footwear, apparel, handicrafts, stationery, ornaments, and so forth.
Furthermore, this laser cutter can work with an optional rewinder used to hold a roll of cloth or PU sheets, so as to boost efficiency.
Chong says Chia Hsing has dedicated itself to researching and developing laser machines for a long time, aspiring to provide customers the best products that truly meet their demand. In the near future, the company will launch more new models, including a five-axis laser cutter and desktop-type laser cutting & engraving machine.
Chia Hsing's contact information: 886-4-2406-4084 and www.chiahsinglaser.com.tw