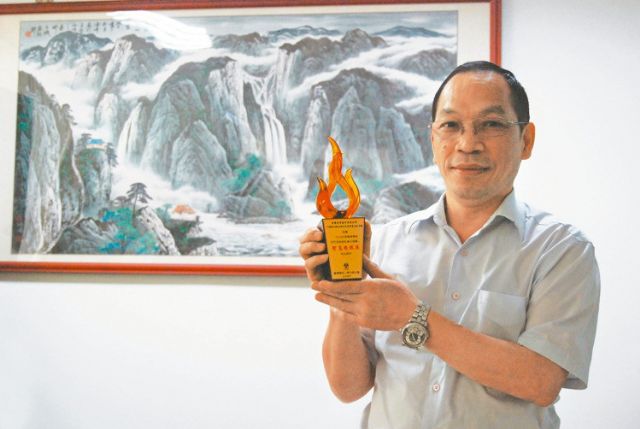 Y.C. Hu, chairman of Multiplas, shows the trophy for the firm's IMES IMS4.0 Smart Injection Molding System in Taipei Plas 2016 (photographed by Lu Siou-bin).
In response to the promotion of smart and automation technology applied in industrial production by the Taiwanese government, Multiplas Enginery Co., Ltd., a Taiwan-based developer and maker of plastic injection molding machines, showcases its IMES IMS4.0 Smart Injection Molding System at JIMTOF 2016.
Chairman Y.C. Hu of Multiplas stresses that the smart injection molding system, an award-winning product at Taipei Plas 2016, is developed on the concept of Industries 4.0 and entirely by the company, specifically for use in machines from Multiplas. This system includes an integrated automation system, central-monitoring system and computer-aided parameter-setting expert system for plastic injection molding.
With integration of machines and related peripherals via a network, the central-monitoring system enables real-time communications among the integrated machinery, to provide operators with more accurate analytical information on production.
A Taiwanese industry-leading maker of injection molding machines and with cutting-edge insert molding technology, Multiplas has been devoted to researching and developing advanced vertical injection molding equipment with higher efficiency and quality, and built a solid reputation among customers from all over the world. It is safe to say the Taiwanese firm is well on its way to Asia's No.1 supplier of its kind.
For detailed information, contact the company via 886-3-330-3108