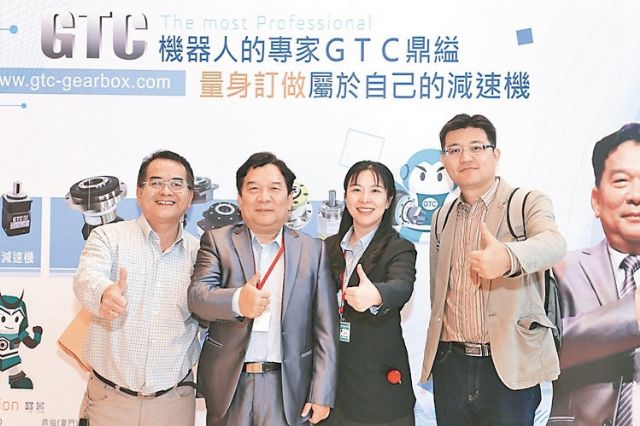 GTC's president E.D. Wang (second from left) (photographed by Haung Chih-chong, reporter from EDN).
Gumptious Technology Co. (GTC) is a professional manufacturer of gearboxes, reducers and actuators, as well as robots, with cutting-edge technology and consummate production capability that enables it to fill custom orders as required by customers.
Lately, GTC took the wrap off its latest GSHG32 hollow harmonic drive reducer as an economical solution specifically for industrial automation, and stated this completely homegrown product is designed to enhance overall competitiveness of Taiwan's industries.
Obviously a technology-driven maker, E.D. Wang, GTC's president, says that his company, already certified by ISO 9001:2008, won Taiwan's National Brand Yushan Award in 2012 with its SBUR series Backlash-free Ball Reducer, WS series Right-angle Gearbox and NT series Hollow Rotary Actuator; and the national Golden Torch Award in 2013 with the SBUR reducer.
Wang stresses that GTC is engaged in developing, manufacturing, designing, selling and exporting of various gearboxes and reducers with integrated operations, and has branches in Tainan, southern Taiwan and Xiamen, China, to provide timely services to customers.
Continuously improving quality and R&D capability with advanced technology, the company has seen its products, particularly the SBUR, WS and NT series and planetary drives, widely accepted by large-sized customers at home and overseas.
For more information, please visit the firm's website: www.gumptious.org, or dial 886-4-2491-9100.