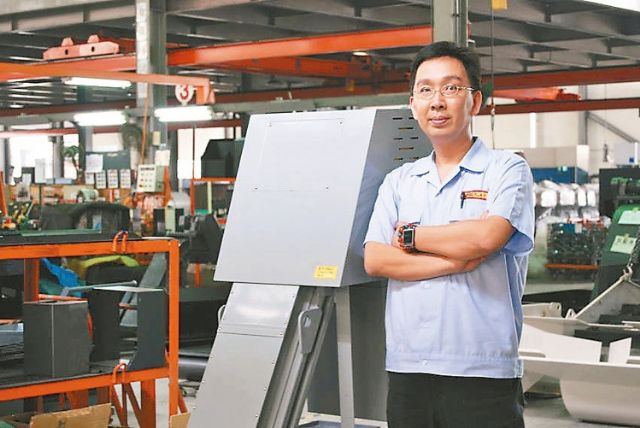 CEO C.P. Cheng of Fongei (photo courtesy of UDN.com)
A top-caliber supplier of automatic material handling equipment, Fongei Industry Co., Ltd. of Taiwan will bring its newest steel belt chip conveyor to this year's JIMTOF, to help machine tool operators to deal with swarf with ease.
CEO C.P. Cheng of Fongei says that this machine has an avant-garde exterior design, which is compact in size, occupies less space and allows for easy maintenance. Besides, it adopts a single motor to cut power consumption, and features prolonged lifespan achieved partly by a built-in overload protector. The conveyor has been patented in China, Japan and Taiwan.
Since 1992, Fongei has continually worked out a spate of high-performance conveyors, including scraper-type magnetic chip conveyors, roller-type chip conveyors, dual belt type chip conveyors, magnetic conveyors, pipe conveyors, and screw type conveyors. Additionally, the company has also developed telescopic covers, liquid-chip separators, oil skimmers and oil mist filters, to set up a broad product lineup.
Cheng indicates that backed by over 40 years of expertise at chip conveyor manufacturing, Fongei has effectively stood out among its Taiwanese peers in aspects of products, quality, output and delivery time, hence well-recognized by customers worldwide, especially those in Japan, as a top-notch supplier in the line.
For detailed information, please contact Fongei via 886-4-2270-3088