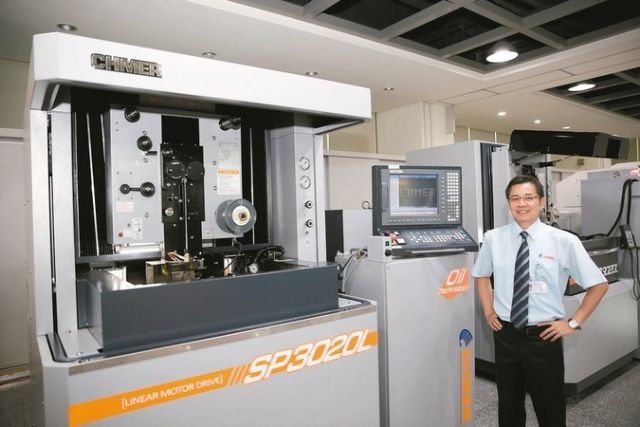 Ching Hung's president C.H. Wang introduces SP3020L Ultra-Precision Oil Wire Cut EDM (photo courtesy of Ching Hung).
Among those, C.H. Wang, president of Ching Hung, states, SP3020L Ultra-Precision Oil Wire Cut EDM features unparalleled precision compared to that offered by competing models made in Taiwan, and is mainly applied in the processing of high-precision molds and parts and PCD cutting tools. In spite of hardness, this machine can handle all kinds of materials with electrical conductivity.
Another product showcased by CHMER is AMStech AD series drilling EDM, which is developed to address requirements in the aerospace industry for multi-angle processing of workpieces of special materials, and has been accepted by several local customers in the line for its attractive price-performance ratio.
A globally top-five manufacturer of EDMs for now, Wang stresses that Ching Hung has actively carved out niches in the increasingly competitive global market by focusing on product innovation and differentiation, while offering total solutions on the concept of smart manufacturing to serve customers from aerospace, automotive, medical, 3C, energy industries.
For more information, pleases contact Ching Hung via 886-4-2350-9188, or go to the website: www.chmer.com