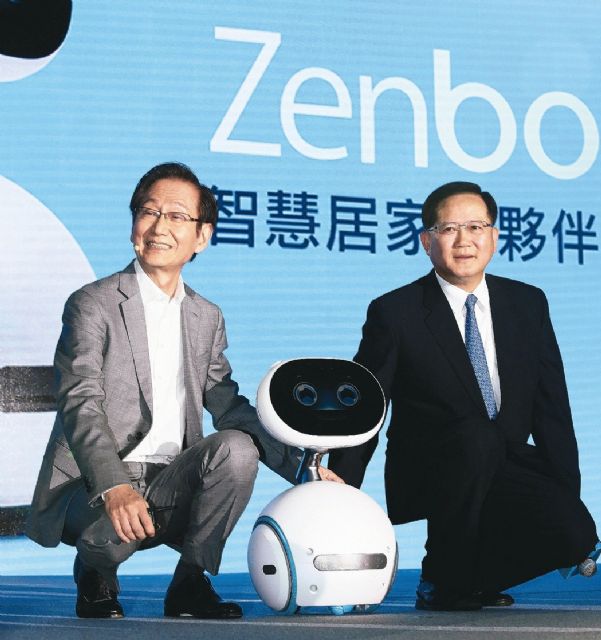 Asustek's chairman Jonney Shih (left) presided over the presentation for Zenbo on December 21, 2016 (photo courtesy of UDN.com)
Asus, a Taiwan-based, globally leading brand of PCs and consumer electronic devices, just took the wraps off its first robot, Zenbo, at a press conference held on December 21, 2016, with prices starting from only NT$19,900 (roughly US$629.74) per unit. Such a low unit price is likely to make the product a game-changer to propel growth of the global market for robots.
Jonney Shih, chairman of Asustek, owner of Asus, announced at the venue that the long-awaited robot will hit the Taiwanese market as its first destination among countries and be open for pre-orders starting January 1, 2017.
Asus executives noted that the brand prepares only 168 units of Zenbo for the first run of sale in the Taiwanese market and without plans to promote it overseas for the moment, considering that it still needs time to improve user experience of the product.
Shih introduced that an entry-level Zenbo is equipped with 32Gb memory coupled with 19 audio stories and free subscription (one month) of digital entertainment and educational content for children, to sell for NT$19,900; a premium model has memory capacity of 128Gb and an optional charging station with prices starting from NT$24,900 (US$787.97) per unit.
Market observers point out that Asus has effectively created a hype for Zenbo in the market, not to mention the product's game-changing prices it sets. However, they stress whether the new product will become a hot-seller remains to be seen, and expect Zenbo to contribute only a little to Asus's business performance in the first quarter of 2017.
In a perspective of marketing, Zenbo differs completely from its competing model, Pepper. Pepper is developed jointly by Hon Hai Precision of Taiwan and Softbank of Japan, and now promoted only on a rent-to-own basis in Taiwan for NT$26,888 (US$853.58) a month. It has been accepted by EVA Airs, Taiwan Mobile and many financial firms for commercial use. In comparison, Zenbo with consumer-friendly prices is targeted at the household segment and promoted as part of smart home solutions.