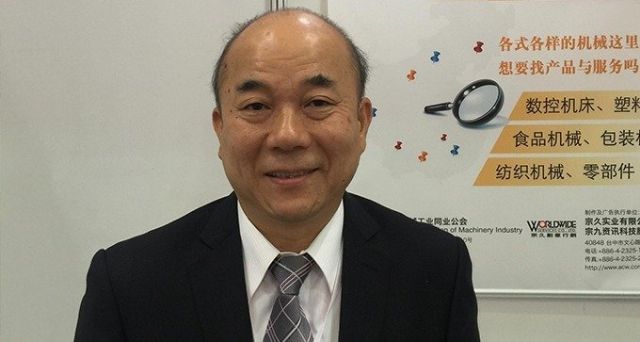 B.S. Ko, TAMI chairman, projects annual output of Taiwan's machinery industry to amount to over NT$1 trillion the first time in history in 2017 (photo courtesy of UDN.com).
With overall output of Taiwan-made machinery continuously rising, B.S. Ko, chairman of Taiwan Association of Machinery Industry (TAMI), an industrial federation of local machinery makers, stated earlier that the industry is very likely to finish 2017 with annual output value capping NT$1 trillion (US$32.53 billion) the first time in history.
Boding well for the industry, the overall exports of machinery, including machine tools and related components, totaled US$1.86 billion in January, up 7.9 percent from a year ago, with major suppliers, including Fair Friend Group, Hiwin Technologies, Tongtai Group, Victor Taichung Machinery Works, Goodway Machine Tool Group, Taiwan Takisawa and Far East Machinery, generally having witnessed their orders significantly increase over the past few months.
On the strength of Taiwan's steadily growing machinery output value, which is estimated to have reached an estimated NT$990 billion (US$32.2 billion) in 2016, up 3 percent yearly, Ko indicated that the industry is very close to its long-awaited goal of becoming one of only a few trillion-dollar industries on the island. If everything goes well without a glitch, the industry will hopefully attain the objective this year after a strong start, stressed the chairman.
One decisive factor among others behind Ko's confidence is the payoff of insiders' years-long dedication to product upgrading. The chairman emphasized that following several years of hard work, a couple of local machinery maker have seen their efforts borne fruit in the form of various automation solutions that have been launched, including AVM (automatic virtual metrology)-incorporated automation solution by Far East for aluminum wheel production, and V4.0 intelligent automation equipment by Victor Taichung Machinery Works.
Meanwhile, Ko mentioned, some companies, such as She Hong Industrial Co., Ltd., a machining center manufacturer, have been upgrading their manufacturing facilities into the so-called "i-Factory" (coined by local insiders to describe intelligent production lines). Once completed and proving successful, these programs will not just sharpen the competitiveness of makers involved, but giving them the ability to promote and provide such whole-plant services overseas in the future, stressed the chairman, adding that this, in turn, will create a new growth engine for the industry.
To help Taiwanese makers to better work toward Industrie 4.0, Ko said that TAMI will ask for the government's assistance to further integrate resources among local insiders, academia and R&D bodies, to create positive synergies that they can tap to develop more competitive products, along with related software, to meet market trends.
Also, the increasingly busy global aerospace industry gives Ko reason to believe that outlooks for Taiwanese machine tool makers are getting brighter. He noted that in the next two decades, an estimated 40,000 aircrafts will be needed worldwide to generate tremendous business opportunities worth some US$5 trillion.
The chairman said that some Taiwanese suppliers, who have tried to penetrate the segment over the past few years through collaboration with Aerospace Industrial Development Corporation, the island's largest aircraft builder, will be able to enjoy the sweet market pies, especially when Taiwan's new administration is actively nurturing the domestic defense industry and establishing momentum among local firms to design, develop and produce jet trainers and fighter jets at home.