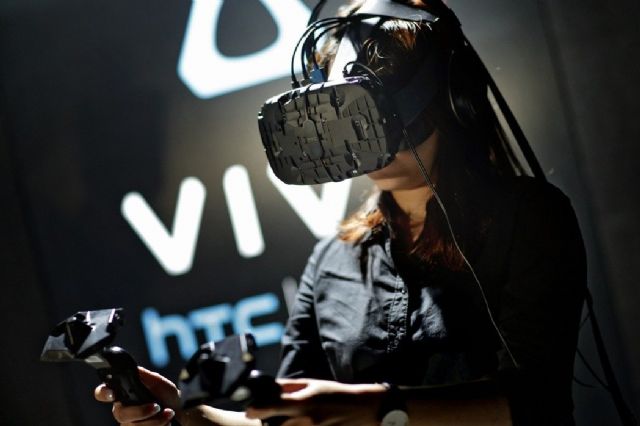 HTC Vive commanded a 17.7 percent share of China's VR headset market as the best-selling model among others in 2016, as reported by Canalys (photo courtesy of UDN.com).
Escaping from the failure spiral in smartphone business, HTC Corp. has actively invested in the development and promotion of VR (virtual reality) headsets over the past few years. With the effort paying off, the Taiwanese branded vendor topped China's VR headset market by grabbing a share of 17.7 percent in 2016 with its HTC Vive, according to Canalys, a global market research and consulting firm with offices overseas.
Given that China is now world's second-largest market for VR headset, which absorbed about 15 percent of total supply in 2016, Canalys estimates global shipment of such products at some 2 million units in the year, which, however, was much lower than the forecast by other market research institutes.
Based on the estimate above mentioned and HTC's market share, Canalys believes HTC Vive sales in the Chinese market reached some 53,000 units and totaled 350,000 units overseas last year, though the Taiwanese firm has declined to publish its own VR headset sales figures all the time for unknown reasons.
Canalys indicates that HTC's current achievement in China's VR headset market is attributable mainly to its comparatively robust financial health for shoring up marketing, as well as a better established ecosystem for HTC Vive than those for competitors.
Trailing HTC was Deepoon of China, which promoted its all-in-one VR device that features a built-in battery, graphic processing unit and advanced AMOLED (active-matrix organic light-emitting diode) display supplied by Samsung to differ among competing models, and snapped up a 16.9 percent share of the market with sales of an estimated 50,700 units.
Meanwhile, 3Glasses, Deepoon's local peer, whose VR headset model is widely considered comparable with HTV Vive in aspects of hardware specification and VR experience, commanded a 9.4 percent share as the No.3 branded vendor in the market.
Fretted by insufficient content provided in China, Sony, whose PSVR has effectively hyped consumers in Japan, Europe and the U.S. since released, nevertheless, posted a share of 7.7 percent in the market last year, translated into sales of only around 23,100 units, according to Canalys' report.
As to market outlooks in 2017, Canalys opines that players in the competitive landscape in China are likely to come under more challenges, including increasingly heavy pressure given by their investors and majority shareholders to achieve significant sales growth and improving profitability as soon as possible, which, however, could impede them from enhancing technological edges and creating more content as a predictable result.