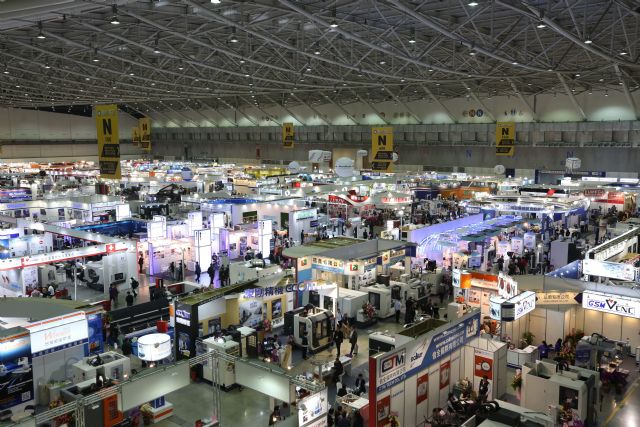 TIMTOS 2017 hosts over 1,100 exhibitors and showcases a full line of machine tools and related products from March 7 through 12 in Taipei, capital of Taiwan (photo courtesy of show organizers).
TIMTOS 2017 (Taiwan International Machine Tool Show 2017) is set to open from March 7 through 12 in Taipei, capital of Taiwan, with four exhibition halls at different locations to impress participants with a full spectrum of machine tools and related products from all over the world.
Organized by Taiwan External Trade Development Council (TAITRA), a semi-official export promoter, in associate with Taiwan Association of Machinery Industry (TAMI), the only industrial federation of local machinery and parts and component makers on the island, TIMTOS 2017 continues seeing impressive growth amid signs of recovering market demand for such products worldwide.
According to Walter Yeh, executive vice president of TAITRA, at a pre-show press conference held earlier, this year's TIMTOS hosts some 1,100 exhibitors from 21 different countries of the world using over 5,430 booths in four exhibition halls, with a total exhibition area of nearly 100,000 square meters. The exhibitor turnout and size, Yeh stressed, both hit record highs to consolidate TIMTOS's reputation as world's top-five, or Asia's second-largest, trade fair for the machine tool industry.
Yeh mentioned that TIMTOS 2017 also enjoys growing global appeal, as reflected by the proportion of foreign exhibitors at the show nearing 30 percent, including those from world's highest-profile machine-tool manufacturing countries, such as Germany, Switzerland, Italy, Japan, the U.S. and Korea.
To accommodate significantly increasing exhibitors, show organizers set up four exhibition halls in different venues within Taipei, including TWTC (Taipei World Trade Center) Exhibition Hall 1, Yuanshan Expo Dome @ Taipei EXPO PARK, TWTC Exhibition Hall 3 and Taipei NANGANG Exhibition Center Hall 1 (ground floor and Skydome). Buyers and visitors can easily and conveniently travel among these venues by using the shuttle service offered.
With the theme "Industry 4.0+ and Smart Manufacturing," TIMTOS 2017 not just represents a thorough supply chain of machine tools, including CNC, metal cutting and forming machine tools, foundry, forging, welding and cutting equipment, tube and wire processing equipment, tools and cutters, inspection and measuring equipment, software, controllers and industrial robots, etc., but also showcases a variety of newly developed smart machines and production lines brought by exhibitors as intelligent factory, smart manufacturing and turnkey solutions to address growing concerns among global manufacturing companies about Industrie 4.0.
To assure buyers of a more worthwhile visit, the inaugural Summit will be held March 8-9 at Conference Room 101 in Taipei International Convention Center (TICC) as part of TIMTOS 2017.
The summit will feature 17 invited speakers from globally renowned firms, including CISCO, NVIDIA, SICK, SIEMENS, and KUKA, as well as industry and academic leaders, who will together provide audience extensive insights into the latest market trends revolving around "Smart Machines," "Future Factories," "Automotive Manufacturing Revolution" and "Aerospace Supply Chain." (For more information on the summit, browse http://www.accupass.com/go/timtos2017summit.)
Additionally, the "13th R&D and Innovative Machine Tool Competition" and more than 30 seminars and new product presentations will be held during the show. All these events are to help keep industry players themselves updated with the current and future development of the industry.
Noteworthy is that fueled by TIMTOS 2017 among other positive factors, including global market demand turnaround and the government's strong support to local insiders on the development of smart machinery, TAMI chairman B.S. Ko noted that Taiwan's machinery industry is very likely to witness its annual output beat the NT$1 trillion (roughly US$32.57 billion) mark this year, given the corresponding figure of NT$990 billion (US$32.24 billion) scored in 2016.