In-line and off-line flexographic printing machines, chamber Dr. blade flexographic printing machines, optional equipment, cutting and sealing machines
Ever since established in 1975, Lee Yeun Ind. Co., Ltd. has been dedicated to developing and manufacturing flexographic printing machines and related peripherals as one of the foremost, most globally competitive suppliers of this kind in Taiwan.

To address demands of end-users for simple operation, easy maintenance and excellent quality with competitive prices, the company builds advanced control systems and precision components from globally prestigious suppliers into its flexographic printing machines, and draws on its time-tested craftsmanship and manufacturing techniques and knowledge to continuously improve its products.

Also, Lee Yeun offers optional equipment, including auto tension sensors, electronic brakes, cameras, Dr. Blade systems, air shaft and rewind pressing rollers, to meet various requirements.

Thanks to exceptional performance alongside value-added exterior design, the company's flexographic printing machines, mostly marketed under its "LEEWIN" brand, have enjoyed a rather high profile among customers worldwide, including such big-name enterprises as Formosa Plastic Group.

Lee Yuen's machines can be applied in reel-to-reel printing of fiber glass cloth, plastic woven bags, cell phones, aluminum foil, roller paper, packing paper, tubular films, and PP/HDPE, LDPE/LLDPE polyester bags.

Among its hot-sellers, the HSP series Chamber Dr. Blade Flexographic Printing Machine allows 6-color printing on polymer bags, woven bags and nonwoven fabric materials at a maximum speed of 200 meters per minute, with printing width and repeat printing length of 700-1,500mm and 250-1,000mm, respectively.

The firm's HY-G5000 heavy-duty model is also a remarkable product, which is built with a frame of iron cast and finished with vanish coating and adopts an auto tension controller and EPC system coupled with a uniquely designed banana roller for smooth and stable operation. The machine is suitable for PP/PE woven sacks, craft paper and other heavy-duty packaging materials.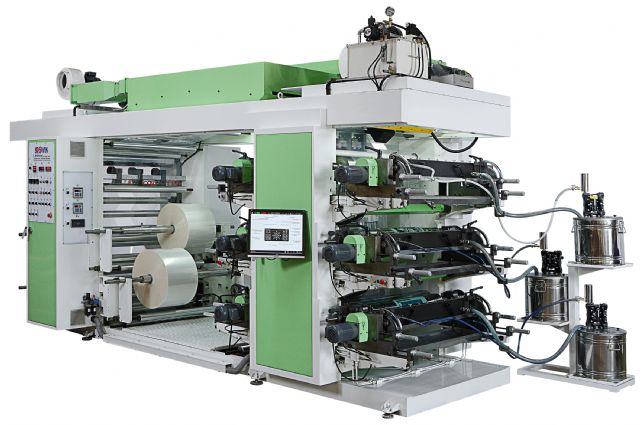 Lee Yeun's HSP-610 flexographic printing machine.
Lee Yeun's HY-G5000 heavy-duty flexographic printing machine.
Lee Yeun Ind. Co., Ltd.
No. 169-3, Zhongzheng Rd., Sec. 2, Sanxia Dist., New Taipei City 23742, Taiwan
Tel: 886-2-2674-7799
Fax: 886-2-2674-7818
Email:leewin@leeyeun.com
Website: www.leewin.com.tw