Sourcing event aims to boost exchanges between suppliers and buyers in functional foods market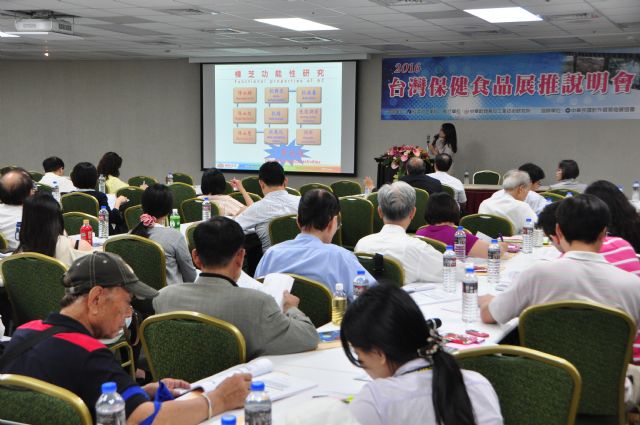 The 2016 edition of Searching and Matching Conference drew a large number of suppliers and buyers as a resounding success (photo courtesy of organizers).
There are many unique functional foods developed in Taiwan. Advanced bio-technologies not only have been applied to develop these functional foods, but also supported by strong scientific evidence. The high quality of functional foods from Taiwan such as Probiotics,
Antrodia
,
Chlorella,
 Red yeast rice and so on has driven all these mature products to meet the international criteria and be welcomed in international markets.
To global buyers interested in the excellent functional foods from Taiwan, the 2017 Searching and Matching Conference is an ideal venue to visit. The event will offer wonderful networking opportunities to visitors to meet 15~20 suppliers of functional foods of Taiwan and present a variety of high quality products targeted at foreign buyers looking for a greater market of functional foods. The factory tours to these local manufacturers will be also arranged.
Noteworthy is that, according to organizers, the round trip ticket of economic class and accommodation for the buyers from Malaysia will be subsidized by host.         
*Content of conference *
   1. 20 Representative sellers from Taiwanese functional foods industry will be invited to join 2017 international media purchasing conference.  
2. The suppliers provide not only ingredients of  functional food but also subcontracting service (including  OEM, ODM..etc.)  to meet  the demands  of clients.
3. The functional food ingredients include Probiotics,
Antrodia, Chlorella, Cordyceps,  Monascaceae (
Red yeast rice
)...etc.
*Searching  & Matching *
In a grouped manner, the supplier and buyer have one by one negotiation for each group. Every buyer can meet every single supplier through turning suppliers' groups. The suppliers will show buyers the sample of the products and provide the catalog and description of the products in the negotiation process.
*Date & Time of Conference *
June 15, 2017; 13:30 -17:00
*Location of Conference*
Conference room #1, 2th Floor, Taipei World Trade Center Exhibition Hall 1 (NO.5, Hsin-Yi Rd., Sec 5, Taipei, Taiwan, 11011, R.O.C.)
*Qualification of Subsidy*
It needs to meet following 2 conditions:
1.
Malaysian functional foods industry stakeholder (including manufactures, suppliers, traders, dealers… etc).
2.
Annual revenue of company is more than US$2 million
*Items of  Subsidy*
  1. International air ticket (Malaysia-Taipei round trip, economic class).
  2. 3 night accommodation fee (limited for 14~16 June, the highest subsidy is US$120
 per night ).
***
Please keep all receipts for reimbursement of expenses (including
(a)
Malaysia-Taipei round trip air ticket Receipt
(b)
Boarding pass card
(c)
accommodation receipt).
In principle, all subsidies will be pay by remittance in 2 weeks when gathering the
receipts from subsidized objective after the event is finished.
*Number of Subsidized Objective *
  5 companies (one person every single company is allowed). The host will keep the
right to screen subsidized objectives cause the limited quota.
*Date & Time of Registration*
Apr. 1 ~ Jun/ 12, 2017, or Cutoff until fulfill the quota
*Registration Method*
Please fill in form as
attachment 1 than submit it through e-mail. Please send it to
following e-mail address:
sinyi.tzeng@cgprdi.org.tw
*Contact*
Cindy  Tzeng  (Tel:886-2-26101010 ext 253 ; e-mail: sinyi.tzeng@cgprdi.org.tw)
Alice  Tsai
 (Tel:886-2-26101010 ext 254 ; e-mail: alice.tsai@cgprdi.org.tw)
*Information of Conference Related Units*
Host: Industrial development bureau, ministry of economic affairs, Taiwan.
Organizer: China grain product research and development institute