Hot runner temperature controllers, coil heaters, edge connectors, multi-frame heaters, mold terminal boxes, mold cables, etc.
Backed by profound knowledge of electronic product manufacturing, Allwonder Hotrunner Control Enterprise Co., Ltd. is engaged in hot runner temperature controllers and related components and accessories.

Following 17 years of development in the field, Allwonder Hotrunner has built a solid reputation among customers at home and abroad for offering the best possible service, as well as a full line of hot runner temperature controllers, which feature high quality, stability, accuracy and precision, with measured temperature accuracy of a plus and minus 0.1 degree Celsius, and are completely compatible with hot runner systems from almost all of world's major brands.

Allwonder Hotrunner has passed certification of ISO-9001:2000 and CE Mark, further ensuring end-users the guaranteed quality of its products.

Hot runner temperature controller products provided by Allwonder Hotrunner encompass touchscreen temperature control systems, single-zone and dual-zone temperature controllerss, sequence controller modules, multi-zone temperature controllers.

Committed to the continuous improvement of quality and technology, along with unremitting devotion to R&D, Allwonder Hotrunner is dedicated to assuring customers of hot runner products with the best quality. It welcomes orders on an OEM and ODM basis.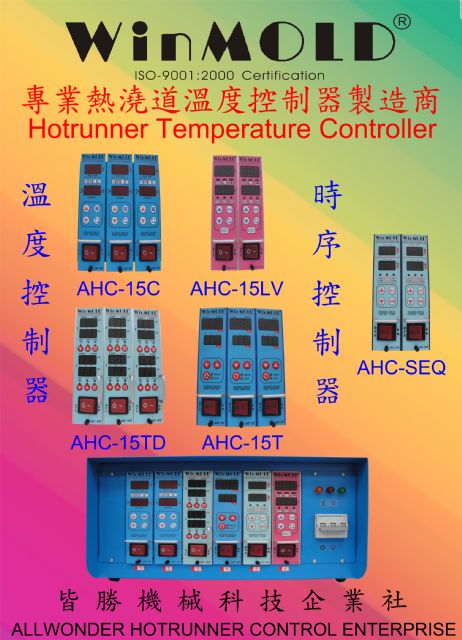 Allwonder Hotrunner is a professional supplier of temperature controllers and related components and accessories for hot runner systems.
For detailed information, please contact Allwonder Hotrunner via:
Tel: 886-6-3585881
Fax: 886-6-3585741
Website: http://www.winmold-temperature.com.tw/
E-mail: sales@winmold-temperature.com.tw