Asia's Super 5-in-1 Food Expo, organized by TAITRA (The Taiwan External Trade Development Council) between June 22 and 24, is now taking place in Taipei Nangang Exhibition Center Hall 1 and TWTC Exhibition Hall 1. This international event hosts 1,717 exhibitors, with size being the biggest ever. Top-quality food commodities, food-related tech and packaging machinery, and other equipment make this mega trade fair the best business platform of this kind in Asia.

The 5-in-1 event includes FOOD Taipei, Food&Pharmatech, Taipei Pack, Taiwan int'l Hotel Restaurant&Catering and HALAL Taiwan.

FOOD Taipei: It offers the freshest and most exotic bite on food. This venue joins exhibitors from 36 countries with various national pavilions. Led by Council of Agriculture (COA), Taiwan Pavilion accommodates 80 exhibitors and 3 main sections to provide the visitors a new world of flavors.

Food & Pharmatech: Food industry has put more emphasis on the hygiene issue than ever. Intelligent food safety control and automatic cleaning have become the major objectives of research and development for food machinery manufacturers. The abovementioned indicated that intelligent manufacturing is the future trend. Automatic tablet inspection from YENCHEN provides a striking example, which can manage to run the tablet inspection with quicker and safer procedure.

Taiwan int'l Hotel Restaurant & Catering: This show is taking place at TWTC Exhibition Hall 1, serving as Taiwan's largest purchasing and information platform for the tableware providers. The hotel section welcomes buyers looking for food equipment, baking equipment, tableware, etc.

HALAL TAIWAN: The Southeast Asia market is on the rise. About 400 Halal-certified businesses are in Taiwan. Through showcasing the Halal-certified drinks, supplements, and cosmetics products, the expo aims at reaching out to the US$3-4 trillion global Halal market.

Related activities: During the exhibition, a series of forums and conferences are held for the interested visitors. Please check www.foodtaipei.com.tw for further information.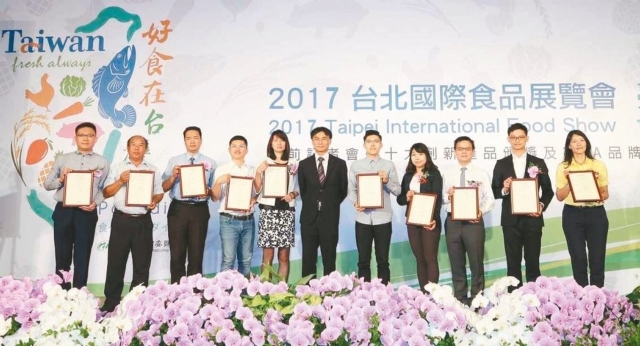 Dr. Chen, Chi-Chung, Deputy Minister of Council of Agriculture (middle), and the Ten Innovative Product Award winners. (photo taken by Richard, Lee)