The disastrous ransomware, "Wanna Cry", has raised people's awareness of data security issue, causing the backup-to-disc option to become an attractive new data storage solution apart from cloud storage services.

Archival Disc, jointly debuted by Panasonic and Sony, the Japan-based, multinational electronics corporations, is the latest ultra-high capacity B2B storage solution with outstanding Ingress Protection Rating and 1TB storage capacity. The technology, patented by the two Japanese corporations, is suitable for the industries that require long-term and mass data storage, such as movie industry and clouds application.

The leading social network Facebook has adopted the cutting-edge technology, cooperating with Panasonic to develop the effective, sustainable storage solution.

Facebook's new move has caught the eye of the related industries, causing the Taiwanese professionalized electronics manufacturers likeRitek and CMC to research and develop the related products.

Ritek, owning the only authorized Taiwanese Blue-ray Disc production line and the only 100GB Blue-ray Disc producer in Taiwan, has debut the high capacity Blue-ray Disc targeting the business market that requires solid backup solution.

CMC chairmanWeng Ming-Hsien noted that CMC's efforts of R&D in Disc technology has finally paid off now after the vicious competition for the past decade, predicting that 2018 will be the new era of CD. The features of high capacity and easy-management are likely to make CD sweep the market in the coming years.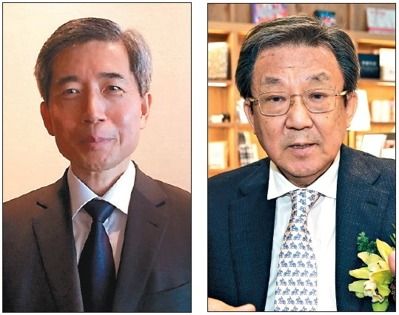 Chairman of Ritek Yeh,Chui-Ching (left) and CMC Chairman Weng Ming-Hsien(right)
CMC, possessing the various specialized disc production lines, provides professional disc products with high capacity and high efficiency.