Advanced Micro Devices (AMD), an American multinational semiconductor company based in Sunnyvale, California, the U.S., strikes gold with the uprising bitcoin trend, which has driven the demand for AMD's graphics card.

Above the market's expectation, AMD, On July 25th, announced net losses of US$ 16 million (NT$ 486 million), or US$0.02 per share, and revenue of US$ 1.22 billion (NT$ 37 billion) for the second quarter of 2017. Sales by the firm's processors unit even skyrocketed 51.5% to US$659 million (NT$ 20 billion).

On a current conference call, Lisa Su, CEO and president of AMD, noted that the firm expects its revenue for the third quarter to rise 23% from the second quarter, with a median result estimated at US$ 1.5 billion (NT$ 45.5 billion),

Su said, even though noticing the soaring demand for AMD graphics cards due to the surging bitcoin trend, the company would like to put its priority on the gaming market.
Su further estimated that market demand for chips used in gaming consoles like semi-custom chips would peak this quarter, and fall back in the fourth quarter.

Forecasting its annual revenue growth at 15%-19%, AMD is ramping up output as its annual inventory is expected to shrink as compared to last year.

Bitcoin's surge in June 2017 significantly spurred market demand for AMD graphics cards, hence driving the firm's stock prices even higher as a result.

As graphics cards from AMD and Nvidia have been the prime choices for the bitcoin "miners", AMD's, however, are generally considered superior to Nvidia's in terms of performance. Also, AMD's newly released Radeon Vega graphics card is highly acclaimed by the miners as "a must have" for mining.

Patrick Moorhead, analyst from Moor Insight & Strategy, a leading global high tech advisory, analysis, and consulting firm, holds optimism about AMD's future, given that the firm very likely to net profits from its next-generation, potentially lucrative EPYC server processor and Ryzen processor, while Radeon Vega has just hit the market not long ago.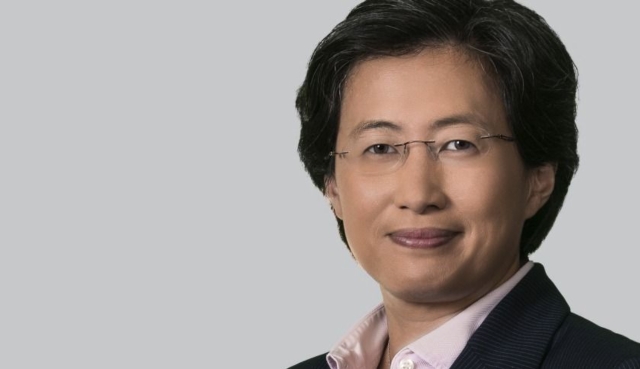 Lisa Su, CEO and president of AMD. (photo provided by UDN)