Mainly on the trend for environmental protection, along with the upgraded subsidies and the government's promotion to replace the two-stroke scooters, overall sales of electric motorcycles in Taiwan are estimated to witness a promising growth in the near future.

Following Gogoro's e-scooters that are targeted at local young people, China Motor's e-moving Post aimed at the business segments has proven successful as well in the Taiwanese market. The rise of two suppliers manifests the increasingly looming market potential of electric powered-two wheelers on the island.

According to Ministry of Economic Affairs (MOEA), the number of electric scooters and motorcycles in the market is expected to reach about 30,000-40,000 units this year, and then further soar to 200,000 units within five years.

Global Information, Inc. (GII), a professional company that offers premium research reports, forecasts that the global market size of high-performance electric bikes will rapidly swell at a compound annual growth rate of 45.2% between 2016 and 2020.

In addition to the abovementioned manufacturers in Taiwan, upstream parts suppliers, including Maxxis, Delta Electronics, Welldone, etc., will also benefit from the e-bike trend.

With its run-flat tires, all weather tires, and 16-19 inch car tires proven hot-selling in the Chinese market, Maxxis, a Taiwan-based, globally leading tire brand, has recently focused on developing high-value products to upgrade its product mix, and introduced the Premitra HP5 car tire around the world.

A source from Maxxis noted that ever more BMW and Mercedes-Benz luxury sedan owners prefer to Maxxis tires, a transition indicative of Maxxis' products already well-recognized as a top-tier in the global market.

On the other hand, Morgan Stanley has acclaimed Delta Electronics as "overweight" in credit rating. The technology industry analyst Sharon Shi pointed out that Delta has been putting efforts on integrating its manufacturing capability in response to increasingly bright prospects of the market for clean energy used in vehicles. With the effort gradually paying off, the firm, Morgan Stanley estimated, will see a contribution rate of its "new-tech" products to overall revenue significantly pick up from 66% in 2013 to 76% in 2019.

Aiming to establish open standard and highly compatible systems, Welldone, which just formed a green alliance last year in an effort to tap a synergy to expand the local electric bike market, has also actively worked on vertical integration of resources among its subsidiaries, to provide thorough solutions for electric bikes.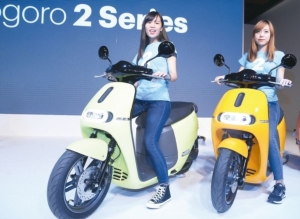 Overall sales of electric motorcycles in Taiwan are estimated to witness a promising growth in the near future. (photo provided by UDN)