After its new headquarters was inaugurated on Aug. 1 and wafer fabrication process was successful upgraded from 30 nanometer (nm) to 20 nm, Nanya Technology Corporation ambitiously aspires to take the lead in the global DRAM market.

Dr. Lee Pei Ing, president of Nanya, stressed that the newly established headquarters, which Nanya put aside NT$ 55.7 billion to build coupled with a 12-inch wafer plant, stand as a significant milestone in the firm's history.

As the newly constructed wafer plant entirely employs 20nm process technology, Nanya will move to debut the latest DRAM products including the mainstream DDR4, LP DDR4 DRAM, DDR5, DDR6, etc., with an aim to fulfill requirements for diverse product applications, such as smart auto, smart home, and smart office.

Lee added that leveraging know-how from Micron Technology, an American corporation based in Boise, Idaho, and a business partner of Nanya, 90% of the products from Nanya's 3A plant are self-designed and manufactured using 30 nm process technology for the moment.

As 20nm technology has been introduced into the brand-new 3A plant, a defect-free rate is expected to increase sharply. According to its customers' feedback, the defect-free rate has been maintained at a satisfying level so far.

The 3A Plant is scheduled to produce 30,000 wafers using the new process technology by the end of this year, and further expand the quantity to 38,000 units during the first half of next year, to achieve overall output of 68,000 units then, including 30,000 ones to be made with the current 30nm and 40nm process technologies.

Eyeing sustainable development, Nanya already recruited a number of engineers dedicated to the R&D for 10nm process six months ago. However, Lee admitted that the company has yet to decide whether to develop the advanced process technology by itself or to seek Micron's assistance.

The inauguration ceremony for Nanya's new headquarters, just took place August 1, with lots of celebrities from the government and originations, such as Executive Yang, Ministry of Science and Technology, Kingston, Adata, Etron and many others, being present. Wu Chia Chau, chairman of Nanya, noted that Nanya will continuously gear up to explore all the possibility of this niche market.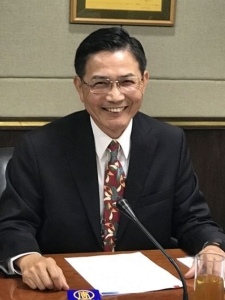 Dr. Lee Pei Ing, president of Nanya. (photo provided by UDN)