Innovative maker materializes 24-hour production systems using 5-axis machining centers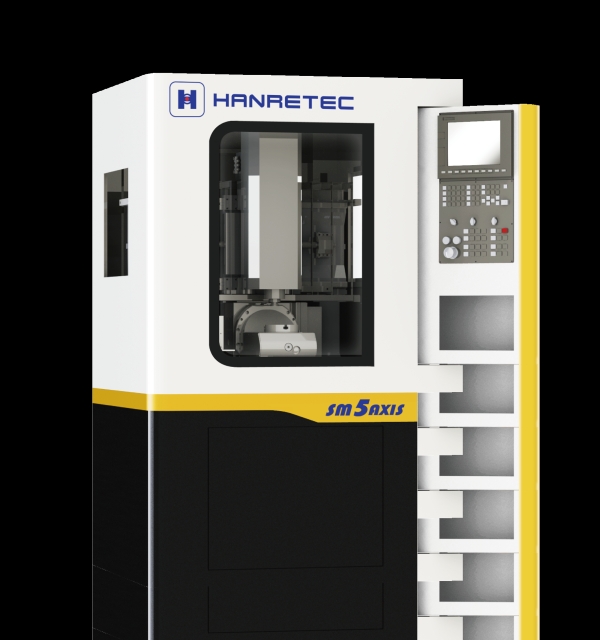 Hanretec Enterprise Co., Ltd, established in Changhua, central Taiwan in 2000, is specialized in providing equipment parts, machine tool and professional services including APE (Automatic Production Equipment) design, fixture design, and advanced ceramic design and application.
In 2009, Henretek successfully developed the MKII CNC four-spindle five-axis machining centers through cooperation with a Japanese tech firm.
Ever since working out the next-gen controller for 5-axis CNC machining centers in 2013 as Taiwan's first supplier of this kind, Hanretek has actively dedicated itself to the R&D for 5-Axis CNC machining centers and the integration of manufacturing processes.
Hanretek is also experienced in providing its customers with professional solutions for complicated working processes of 5-axis CNC machining centers, 5-axis, 4-spindle models and mini 5-axis models.
Meanwhile, Hanretek effectively develops Taiwan's first 24-hour production lines using locally made 5-axis machining centers, and provides 5-axis machining teaching program, with a hope of bridging the gap between academia and industries.
With a modern factory spread over 3,967 square meters, which started up in 2017 and employs complete production lines, Hanretek is confident in satisfying its customers with the best products and services.
Hanretek's products can be applied in auto parts and car production, electronic products and medical instruments. Further requests for aluminum die casting, aluminum forging and other OEM/ODM services are sincerely welcome.
Main Product and Service
5-axis machining centers, 4-spindle 5-axis machining centers, robotic arms, mini 5-axis machining centers, vertical 5-axis machining centers, high-speed double-column machining centers, etc.