Shin Foong Specialty and Applied Materials Co., Ltd, now the world's 7th biggest nitrile-butadiene rubber (NBR) manufacturer headquartered in Koahsiung City, southern Taiwan, aims to get to the No.6 slot through expanding productivity by 30%.

Leveraging the know-how from the Japan-based Mitsui Chemicals, Inc, Shin Foong was dedicated during its early years to manufacturing and supplying styrene-butadiene rubber (SBR) under its "POLYLAC" brand, which was widely adopted by domestic corporations.

However, the moderate domestic economic prospects and grand migrations of Taiwanese enterprises to China during the 90s forced Shin Foong to commerce its first business transformation into NBR.

As market demand for NBR showed great potential with a compound annual growth rate of at least 25% then, Chiu Hisn Ying, chairperson of Shin Foong, hence decided to led his company to carry out various R&D programs for NBR and to tap the market for medical gloves. The firm also established a new plant in Pingtung, southern Taiwan, in 2009, when undersupply situations of NBR were an issue.

In 2010, South Korea's NBR products swiftly emerged in the global market as Korean suppliers generally undersold their rivals with 20-30% lower prices. In the face of the encroachment by those competitors on its markets, Shin Foong saw its orders drastically shrink by around 30%.

Undaunted by the overwhelming threat, Shin Foong insistently put its emphasis on quality, instead of cutting its product prices, and, with the effort paying off, effectively retrieved the lost orders before long.

Shin Foong has now become a major material supplier to many influential companies such as Top Glove, Corning, UMC, and Nipro.

As the world's 7th biggest NBR manufacturer by now, Shin Foong last year produced 80,000 tons of NBR, accounting for 6% of the global market.

Even though its full manufacturing cycle includes more unique processes and therefore takes longer than its peers' to complete, Shin Foong, who scored gross profit rate of as high as 32.3% and 31.7% in the past few years, still beats the market by its high quality products and reasonable price.

Targeting the demands in the developing countries, Shin Foong, plans to explore the Southeast Asian market and to become world's sixth-largest NBR provider though increasing its annual production capacity to 120,000 tons.

Hsu Chih Min, Shin Foong's director, said that the company will eye the future growing demand for NBR gloves.

Shin Foong is going to boost productivity of NBR gloves at its four factories in Malaysia this year and next year by 13% and 15%, respectively, in response to persistently strong market demand for NBR gloves all around the world, which is expected to gain steam partly from the decision by FDA (Food and Drug Administration) of the U.S. to ban all medical gloves made of natural latex rubber in consideration that such material that contains protein has been ascertained as a major cause to allergy.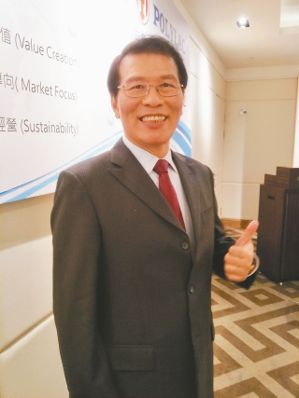 Hsu Chih Min, the director of Shin Foong. (photographed by Popper Kao)