According to the Japanese news agency, Kyodo News, Japan Display Inc (JDI), the Japan-based LCD display manufacturer, is considering accepting a capital injection from Hon Hai, the world's largest EMS (electronic manufacturing service) provider by size and a major OLED supplier for iPhone, as JDI is planning to develop OLED technology through integrating the resources of smartphone display production.

Kyodo News reported that JDI will verify details of the business transformation plan after the board meeting. The report, however, did not cite the source.

JDI, a joint venture by Sony, Toshiba, and Hitachi, and mainly engaged in LCD production, has been suffering from operating losses in recent years.

As its clients, like Apple, are replacing LCD panels with OLED displays, JDI found it increasingly difficult to compete against its South Korean rivals due to insufficient knowledge of OLED related technology.

The news story by Kyodo News further noted that JDI, which looks forward to finding a suitable business partner by next year, has actively sought overseas investors to secure its financial health and sustain the business transformation plan.

With an obvious intention to diminish reliance on LCDs, JDI has planned to shut down its LCD plant in Ishikawa Prefecture and relocate hundreds of its employees to the nearby plants, to pave itself the way for the production of OLEDs.

JDI also intends to lay off over 3,500 workers employed in parts assembly plants in China and the Philippines. In Japan, the firm's negotiations with about 250 workers over an early retirement program to be accepted voluntarily will also take place. These measures will help cut the firm's workforce to 13,000 workers at the end of March, to eliminate more than 50 billion yen (US$451 million) in annual fixed costs.

To carry out the abovementioned plans, including asset impairments, JDI is going to spend more than 150 billion yen (US$1.35 billion) in the year ending next March, which is likely to make the company unprofitable for the fourth straight fiscal year.

Hon Hai has yet to comment Kyodo News' report. If the capital injection plan is true, the Japanese display panel industry will likely witness another boom.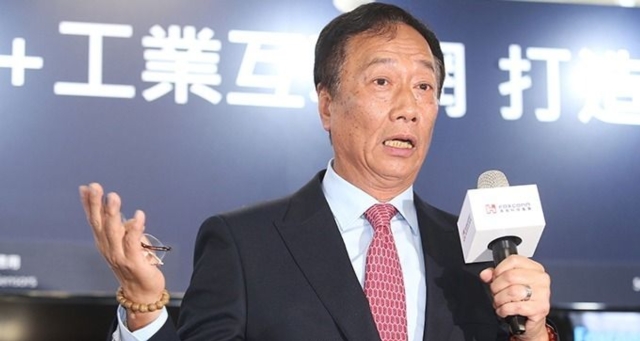 Terry Guo, chairman of Hon Hai Group. (photo from UDN)