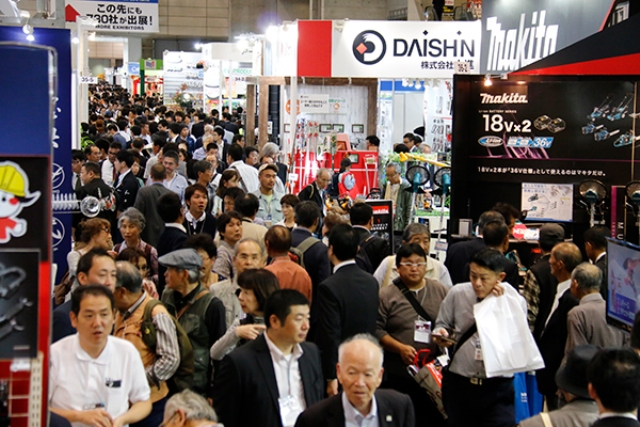 Join us in Fall 2017!
AGRI WORLD - 7th International Agricultural Material & Technology Expo Tokyo and TOOL JAPAN -7th International Hardware & Tools Expo Tokyo will take place in Makuhari Messe, Japan from October 11th (Wed) - 13th (Fri), 2017. Show Management is expecting to have 1,050 exhibitors from 51 countries for the two exhibitions. Among the exhibitors, 150 companies will be there for the first time to exhibit. 58,000 visitors from all over the world will attend these shows, making it Asia's largest agricultural industry show and Japan's largest tools and hardware trade show.
AGRI WORLD
AGRI WORLD is held twice a year (May in Osaka and October in Tokyo) and consists of the following 3 shows: 7th International Agricultural Material & Technology Expo Tokyo (AGRITECH JAPAN); 4th Next Generation Agriculture Expo Tokyo (AGRINEXT JAPAN), and 2nd Farmer's Processing & Sales Support Expo Tokyo. AGRI WORLD gathers exhibitors with fertiliser/soil, agricultural machinery, plant factory, and protected horticulture equipment. Major importers, wholesalers and mass retailers from around the world will visit the show to source trendy products.
AGRITECH JAPAN
AGRITECH JAPAN is Asia's largest trade show in agricultural industry. The latest agricultural products and services will be gathered at one show as business matching with visitors will be largely held at this show. Exhibitors who are manufactures and in industries of protected horticulture, agricultural machinery, agricultural products package, fertiliser/soil, wild animal protection, etc. will be at the show. Visitors who are from home centres, agricultural cooperatives, agricultural corporations, etc. will be visiting this show. AGRITECH JAPAN has 7 zones and 2 are new to the show. The Farmer's Assistance Zone will have machines, tools and thermal workwear that will be of an assistance to farming and the Gardening Zone will have films, pumps, irrigation equipment and air conditioning management system.
AGRINEXT JAPAN
AGRINEXT JAPAN is a trade show with next generation technology and products like IT agriculture, solar sharing, farmer's processing & sales support, and plant factory are gathered to strengthen agriculture industry. AGRINEXT JAPAN have exhibitors who are manufacturers of biomass, drones, carbon dioxide, hydrogen water, solar power generator, etc. Visitors consist of agricultural cooperatives, plant factory operators, local governments, etc. Out of the 8 zones, Smart Agriculture Zone is the newest addition to the show as the latest technology in the agriculture industry are gathered here. Drone Zone is especially popular with international visitors as varieties of drones can be seen at this zone.
FARMERS' PROCESSING & SALES SUPPORT EXPO TOKYO
At FARMERS' PROCESSING & SALES SUPPORT EXPO, products like processing equipment and sales support system will be gathered. These products consistently help out farmers to produce, process, and sell agricultural products. Exhibitors in OEM, consulting, sales support, etc. will have visitors from agricultural corporations, agricultural cooperatives, farming industries, etc. This show consists of 6 zones and 2 new zones, Food Package Zone and Ingredients Additive Zone will have packaging materials and condiments displayed at the show.
TOOL JAPAN
At TOOL JAPAN, tools used all over the world for architects, carpenters, maintenance, and horticulture are displayed in this show. TOOL JAPAN consists of exhibitors who are manufactures of work tools, uniforms, gardening supplies, etc. Visitors will be from home centres, hardware stores, wholesale stores, etc. TOOL JAPAN has 6 zones: Construction Supply & Safety; Agriculture & Forestry/Garden & Landscaping Tools; Worker's Gear; Work Tools; Snow Blower & Snow Removal Equipment; and Safety Equipment. Importers, wholesalers, home centres from around the world will gather at this show. Participants from 51 countries/regions will be at the show and these include China, Brazil, Kenya, Korea, Taiwan, United States, etc. 2
Concurrent Shows
IFEX 2017 - 14th INT'L FLOWERS & PLANTS EXPO TOKYO, Japan's Largest Flowers & Plants Industry Trade Show
GARDEX 2017 - 11th INT'L GARDEN EXPO TOKYO, Japan's Largest Garden Industry Trade Show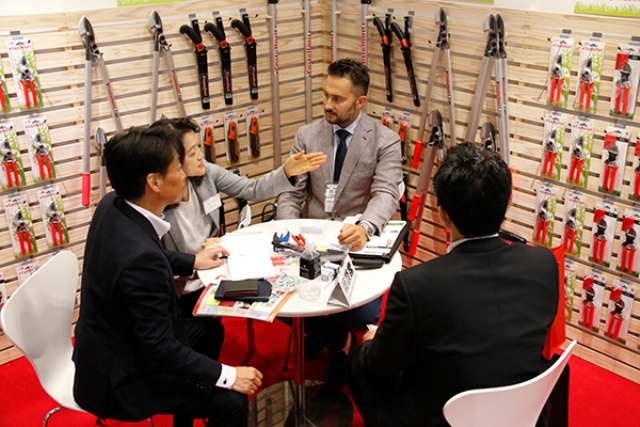 Invitation Ticket Request (Free) >>>
AGRI WORLD: http://www.agritechjapan.jp/en/inv/
TOOL JAPAN: http://www.tooljapan.jp/en/inv/
Exhibiting Information Inquiries >>>
AGRI WORLD: http://www.agritechjapan.jp/en/ex/
TOOL JAPAN: http://www.tooljapan.jp/en/ex/
If you have any inquiries about the show, please contact us at:
visitor -eng.agri@reedexpo.co.jp
organizer: Reed Exhibitions Japan Ltd., ARGI WORLD Show Management
Attn: Lisa Umabayashi (Ms.), International PR
TEL: +81-3-3349-8511
Web: http://www.agritechjapan.jp/en/ http://www.tooljapan.jp/en/