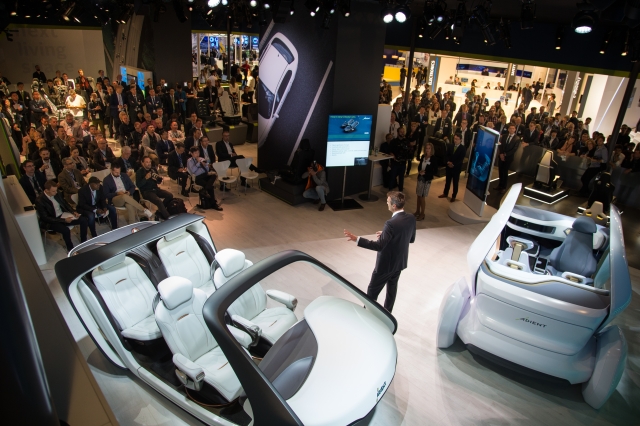 photo courtesy of Internationale Automobil-Ausstellung (IAA).
During the 67th Anternational Motor Show, as known as InternationaleAutomobil-Ausstellung (IAA), the world's largest motor show taking place in Frankfurt, Germany, annually, several heavy-weight exhibitors expressed growing worries that their profits are likely to be undermined in the short term amid the EV booms for cost reasons.
Matthias Müller, CEO of Volkswagen Group, a German multinational automotive manufacturer headquartered in Wolfsburg, confirmed that by 2025, the company will launch 50 electric cars; by 2030, Volkswagen will build electric versions of all 300 models in its lineup. The sweeping plans are estimated to cost the firm EUR 70 billion (USD 8.37 billion).
On another front, Dieter Zetsche, CEO of Daimler, a German multinational automotive corp., acclaimed that all models of Mercedes-Benz, Daimler's subsidiary, will have electric versions by 2020, saying: "car makers are reinventing cars."
However, many car manufacturers are increasingly concerned that this fast EV trend will bring negative effects to global auto market. A number of exhibitors in IAA noted that the aggressive development of EVs has prompted big cities all around the world to conduct stricter regulations on diesel vehicles earlier than expected.
Daimler warned that, starting from now to 2019, the firm's profit margin is estimated to drop 2-3 percent due to the increasing cost on battery purchase and re-design; thus, Daimler plans to carry out a EUR 4 billion (USD4.78 billion) austerity measure to cushion impacts brought by the foreseeable regression.
Takahiro Hachigo, CEO of Honda, a Japanese carmaker, stated he is confident to see Honda chalk up promising profit growth after its EVs are all put on mass production. But before that, he confessed, the firm's profits will be eroded inevitably to some extent.
PSA Peugeot Citroën's CEO, Carlos Tavares, opines that governments' interference in the EV market is unwelcoming, stating that "if electrification is not profitable in future, we all have a problem."
5GAA (5G Automotive Association), a global cross-industry association, noted, governments around the world need to provide related EV infrastructures; otherwise, their efforts for EV development will be in vain.
VolkmarDenner, CEO of the world's largest auto parts provider, pointed out that this EV trend leaves no options to global auto manufacturers, auto parts providers and IT firms, but to jump from strategic planning phase to practical sales decision phase; for instance, those companies now need to think what products should be provided in the coming future.
Bernstein, a prominent Wall Street research firm, concluded that it appears IAA's exhibitors are embracing EV technology and development due to the unstoppable trend, rather than being voluntary.