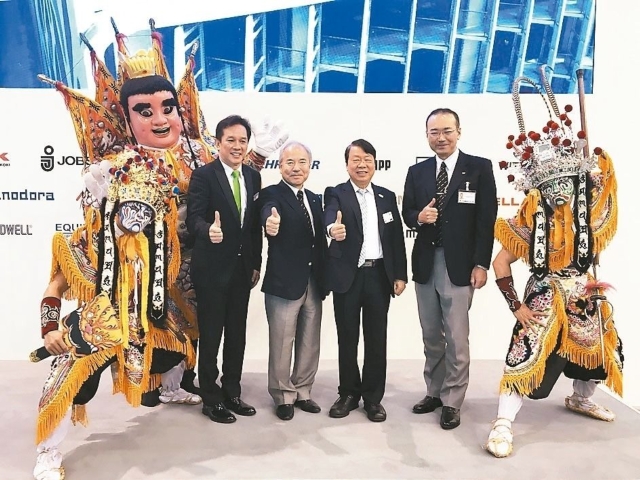 Exhibitors from Taiwan, have seen fruitful outcomes from their participation in this international trade show (photographed by Jason Soong).
At the 2017 edition of EMO, also known as Exposition de la Machine-Outil (Machine Tool World Exposition) and held on September 18th through September 23rd as the world's largest machine tool exhibition, exhibitors from Taiwan, the third-biggest exhibiting nation, have generally witnessed fruitful outcomes from their participation in this international trade show.
Among them, Fair Friend Group (FFG), a leading machine tool maker headquartered in Taiwan, has received orders worth more than US$100 million(NT$3 billion) at the show. Jimmy Chu, chairman of FFG, noted that global positive factors, including China's financial recovery, manufacturing jobs returning to the U.S., the continuous prosperity of auto, aerospace and energy industries in Europe, have injected vigorous purchase desire into this year' EMO show, motivating a large number of buyers to place massive orders to the exhibitors.
Aiming to receive orders worth around US$250 million (NT$7.5 billion) at the show, Chu revealed that of some US$100 million (NT$3 billion) worth of orders garnered on the first day, US$80 million (NT$2.4 billion) came from a Chinese well-known carmaker. Airbus SE, a European multinational airplane maker, and other two carmakers contributed US$9 million (NT$27 million) and over US$18 million (NT$54 million), respectively, to the total.
Worth mentioning is that FFG spent some US$21 million (NT$650 million) exhibiting a wide range of machine tools under its 23 sub-brands at this year's EMO, with its total booth space spread over 6,700 square meters in Hall 14. The firm is the second-largest exhibitor on the show by booth space held.
At the exhibition, the firm also announced its plan to cooperate with CW Group Holdings Limited (CW), a Singapore-based machine tool maker, so as to tap smart manufacturing markets in Southeast Asia and India.
It is reported that FFG and CW have together founded a new company called "FFG-CW" and the cooperation of each party is expected to generate revenue of US$36 million (NT$ 1.1 billion) a year.
Edward Yang, chairperson of Goodway, a Taiwanese veteran machine tool manufacturer, and Hu Wei Hua, chairperson of Litz Hitech, a well-reputed CNC lathe maker from Taiwan, both gave positive feedbacks to 2017 EMO.
With the sales objective of US$10 million (NT$300 million), Goodway won on-spot orders for three Swiss type turning centers and four 5-axis machining centers on the first day of the show, which totally amounted to US$4 million (NT$120 million).
Meanwhile, Litz Hitech sold 3 turning and milling combos valued at US$800 thousand (NT$24 million), while Tongtai and Victor Taichung Machinery Works also landed orders valued over US$1.6 million (NT$ 50 million) each.