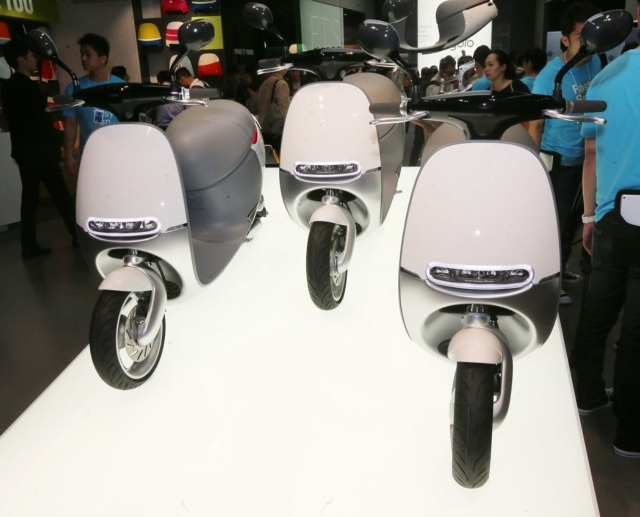 Photo provided by UDN.com
Gogoro Inc, a Taiwanese-based venture-backed company that develops and sells electric scooters and battery swapping infrastructure, has raised a US$300 million (NT$9 billion) new fund as it looks to further expand product categories for other applications.
The third round of fundraising was joined by Temasek Holdings Private Limited, a holding company as a national wealth fund owned by the Government of Singapore; Generation Investment Management LLP (GIM), a London-based investment management firm ,founded by Al Gore, the former Vise-President of the U.S, with a focus on social and environmental responsibility and corporate governance; Engie, a French multinational electric utility company; and Sumitomo Corporation, one of the largest worldwide general trading companies located in Japan.
So far, the firm's total funding has exceeded US$480 million (NT$14.4 billion). It is reported that Gogoro will use the raised capital to expand its overseas markets and R&D scale.
Since its first launch in 2015, Gogoro, with an over 90% share of the e-scooter market in Taiwan, has sold over 34,000 electric scooters and established more than 400 GoStations, Gororo's battery swap stations, on the island.
Gogoro stressed that, with proper financial support and innovative ideas, the brand is definitely capable of becoming a global leader in the segment. Once the new funding is raised without a glitch, Gogoro will take advantage of it to tap the market in Berlin and Paris before other cities.
On another front, Gogoro sees Southeast Asia and India as the firm's next major targets since market demands for motorcycle in both the countries are vigorous. ASEAN member countries, including Vietnam, Thailand, India, Philippines, Indonesia, Malaysia, together contribute US$55 billion (NT$1.65 trillion) to the global motorcycle market annually. Among them, India's market size is 23 times as much as the Taiwanese market; while market scales of the other five countries combine to be 17 times as much. The great market potential of electric scooters in these countries is the major reason among others prompting Temasek Holdings to cooperate with Gogoro.
Samuel Yin, chairman of Taiwan-based Ruentex Group and one of Gogoro's shareholders, said that he is glad to see Gogoro's vision is shared by new global investors and sincerely hope that they can together change the world through undertaking technology innovation, urban traffic improvement and resources integration. "We are now putting the vision into practice and have seen the payoff in Taiwan, Berlin and Paris." Yin said.
Horace Luke, founder of Gogoro, noted that the new fundraising from globally leading companies like Temasek and GIM is the best proof that Gogoro's innovative concept like smart sustainable energy technology and battery swap system can definitely work out and soon become widely accepted in markets and vehicles.