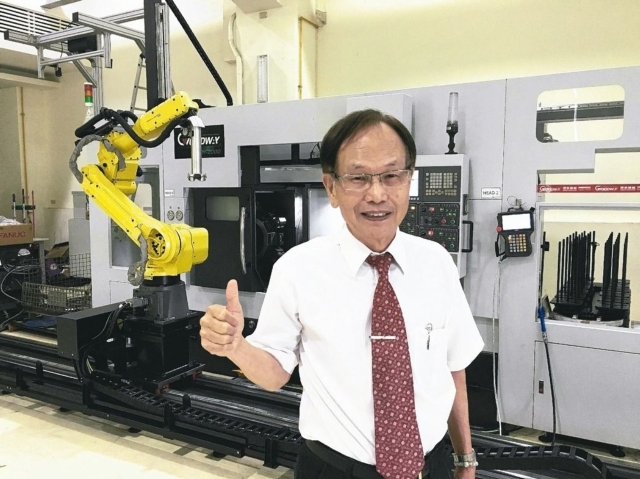 Edward Yang, chairperson of Goodway (photographed by Jason Soong).
The 2017 edition of EMO, held on September 18th through September 23th in Hannover, Germany, further consolidated its status as the world's most influential exhibition for industries from machine tools to Industry 4.0, with exhibitors from Taiwan generally witnessing satisfying orders.
Among the orders received and worth around NT$600 million (US$20 million) during the show, Goodway Machine Corp, a Taiwan-based veteran machine tool manufacturer, for example, revealed that a new project valued at NT$150 million (US$5 million) has been under negotiation. Meanwhile, Kao Fong Machinery Co., Ltd, a leading machine tool maker located in Taichung, central region of Taiwan, won orders worth NT$200 million (US$6.6 million) on the spot, and is likely to see others worth some NT$150 million (US$5 million) after the show.
Edward Yang, chairperson of Goodway, noted that orders placed by buyers from Germany, Turkey and China surged in numbers at this year's EMO, and the company's sales performance during the venue was twice as much as an original objective of NT$300 million (US$10 million).
It is reported that Goodway sold over 100 different types of lathes, and Awea, the subsidiary of Goodway, garnered on-spot orders for around 50 double-column machining centers and vertical machining centers.
Looking at the increasingly prosperous future of the machine tool industry, David Shen, chairman of Kao Fong, thinks the European market has benefitted from stable political situation in Germany. Kao Fong, at the international trade show, has gained a large amount of orders for double-column machining centers and high-speed machining centers, which amount to some NT$1.7 billion (US$56 million)
At the same time, Tongtai Group and Victor Taichung Machinery Works also landed orders valued at about NT$300 million (US$10 million) each.
On another front, Hiwin Technologies Corp., one of the best precision machinery components makers headquartered in Taiwan, has successfully caught global buyers' attention through showcasing its latest version of smart ballscrews and linear guideways. Noteworthily, the company's production capacity has been fully booked through the middle of next year.
Also notable is that, aiming to build a robust ground in the European market, Fair Friend Group (FFG), world's top-3 machine tool maker by size, laid out its exhibits over almost every inch of the area in a exhibition hall during the show, which covered a wide range of machine tools marketed under its 23 sub-brands, and received orders valued at about US$260 million (NT$8.5 million), which exceeded the firm's original expectation of US$200 million (NT$6.6 million).
FFG revealed that of the orders garnered at the show, 40% came from China and, 20% from Germany; while others from European countries and the U.S accounted for 15% and 10%, respectively.