Market insiders noted that TSMC (Taiwan Semiconductor Manufacturing Co.), the world''''s largest semiconductor foundry headquartered in Taiwan, will see a strong revenue performance as the firm won massive orders from multinational corporations like Infineon, a German semiconductor manufacturer; and NXP, a Dutch semiconductor maker.

In Southern Taiwan Science Park, TSMC has inaugurated 3 12-inch wafer plants, which are Fab6, 14A and 14B. Amid the 3 plants, 14A provides cutting-edge manufacturing process of 40 nanometer (nm), 65nm and 90nm for its main clients such as freescale, an American corporation headquartered in Austin, Texas; ON Semiconductor, a Fortune top-1,000 semiconductor company.

It is reported that due to the massive orders from abovementioned companies, TSMC's 14A, with maximum output of 200,000 wafers, has run at full capacity, giving market observers a good reason to believe the firm will likely finish the fourth quarter of this year with enviable revenue growth.

Infineon and NXP's market performance also reflects the vigorous needs of global auto and industrial control market.

With its products being widely used in auto transmission system, suspension and steering wheels, Infineon, for instance, has witnessed its revenue surge over 30 percent year on year so for, mainly thanks to strong demands for power semiconductor modules, which are increasingly used by renewable energy suppliers and data center operators, and chips for electric vehicles (EVs).

Infineon thinks that in the near future, its Insulated Gate Bipolar Transistor
(IGBT) chip will be the key component for EVs and hybrid cars; meanwhile, NXP is actively developing chips that can be applied to Advanced Driver Assistance System (ADAS).

Market insiders noted that TSMC will benefit from the soaring demand as long as the earlier mentioned companies continue to launch new chips and maintain their shipment volume.

TSMC posted revenue of NT$90 billion (US$3 billion) in August for an around 30 percent growth over a month earlier, mainly on the big orders for A11 processors, 16nm chips and 12nm chips from Apple Inc.; MediaTek, a Taiwanese fabless chip designer; and NVADIA, an American technology company based in Santa Clara, California.

The market forecasts that as market demands for auto and industrial controls both remain strong, TSMC's annual revenue is likely to reach a new high this year.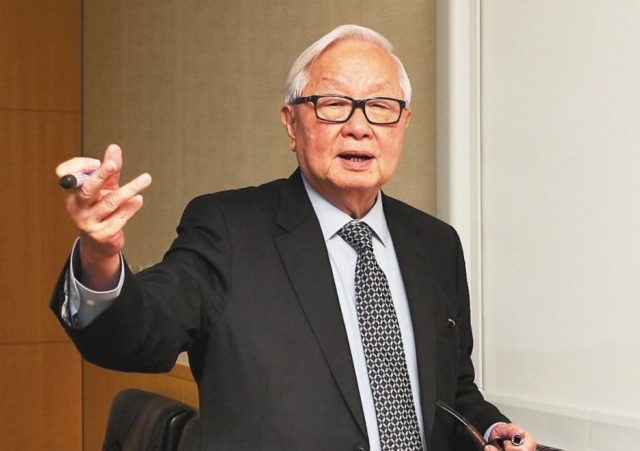 Morris Chang, the founding and current chairman and CEO of TSMC (photo provided by UDN.com)