The 2017 Taipei Innovative Textile Application Show (TITAS 2017), organized by Taiwan Textile Federation in associate with Taiwan External Trade Development Council (TAITRA), has just opened today (October 16) in Hall 1, Taipei Nangang Exhibition Center, set to continue swaying its steadily growing influence over the global textile market in the next three days.

The exhibition hosts 383 exhibitors from 11 countries and areas, namely Germany, Switzerland, Sweden, Czech, the U.S, Japan, South Korea, India, Taiwan, Hong Kong and China, as Taiwan's most influential textile trade fair.

With the themes of "Smart Textile," "Eco-friendly," and "Function Application", TITAS 2017 showcases a slate of innovative high-tech textile products to again amaze global buyers. In addition, the exhibition organizer arranges over 1,000 one-on-one procurement meetings, which are expected to generate great business potential for the trade show.

With cutting-edge technology and know-how, and a shared aim to build solid ground in the smart textile market, many of Taiwanese exhibitors bring their newly developed, innovative products to the venue, including smart clothes and intelligent wearable devices that allow users to easily detect and monitor their health conditions like heart-beat rates and blood pressure at all time. These smart products with incredible functions are expected to blow visitors' mind.

As environmental consciousness increasingly becomes a global trend, more and more companies in the line begin adopting eco-friendly manufacturing techniques, like a zero-toxic emission system, to gain customers' recognitions and boost their corporate images. With no exception, some of Taiwan's textile manufacturers have been dedicated to developing eco-friendly textile products using non-fluoride material, and even during R&D process.

According to U.S-based global market research institutes, sales volume of innovative high-tech functional textile products so far in 2017 has reached 34 million tons, and is estimated at 57 million tons in 2027. Also notable is that, with its size reaching US$12 billion last year, the global market for medical and sport functional textile goods has continued to grow at a very strong pace for the moment. Taiwan's textile firms, with earlier mentioned R&D capability and high-quality products, are very likely to benefit from the market boom.

This year's TITAS hosts several heavy-weight exhibitors like Far Eastern New Centuries, a Taiwanese leading polyester and textile firm; Lealea Group, a well-known firm of the textile field; Polygiene, a multinational text firm located in Sweden; Green Theme International, a well-reputed company producing fine quality fibers, and many others.

Noteworthily, this show has also attracted overseas buyers from several globally prestigious companies, such as Coach, Ralph Lauren, Perry Ellis and others, to ensure exhibitors robust business opportunities during its three-day run.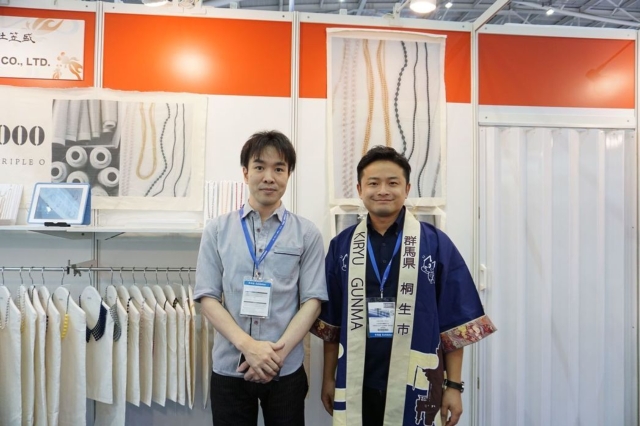 Yuichiro Tsuji (right), an official of Ministry of Economy, Trade and Industry in Japan taking pictures with the visitor. (Photographed by King Lai Lai)