With 2017 Taipei Innovative Textile Application Show (TITAS 2017), an international textile trade show held in Taiwan on October 18th through 20th, enjoying a satisfying turnout, industry insiders, including heads from heavy-weight companies, such as Far Eastern Group, one of the biggest conglomerates in Taiwan; Eclat, a leading textile firm headquartered in Taiwan; and Tainan Spinning, Taiwan's biggest textile products manufacturer, generally hold optimism about the prospect of the textile industry.

C.H. Hung, CEO of Eclat, noted that due to price fluctuations, upstream suppliers in the textile industry are likely to post lackluster performance in 2017, compared to those in midstream and downstream sectors, which are expected to score better revenues this year than that of last year. Eclat, for example, will see robust revenue growth in the first season of next year from the same period of last year.

Riding on the trend, Eclat, for the first time, showcased its Computer Knitted Jacquard Fabric at the show. Hung said that the firm's special knitting technology helps lower users' fatigue after exercise and shape users' body with satisfying effects. In other words, the function of Eclat's products made with the special knitting technology resembles that of compression pants, and ensures improved comfort.

On another front, Douglas Hsu, CEO of Far Eastern Group stressed that textile production remains an evolving industry with considerable growth potential in modern times. This year, Far Eastern Group, has launched multiple products featuring leading cutting-edge technologies, including fabrics without perfluorinated compounds and the world's first 100 percent biomass PET bottles.

TITAS 2017 hosts 383 exhibitors from 11 countries manning 789 booths, and many industry-leading firms including all the above-mentioned companies are among this year's exhibitors as well.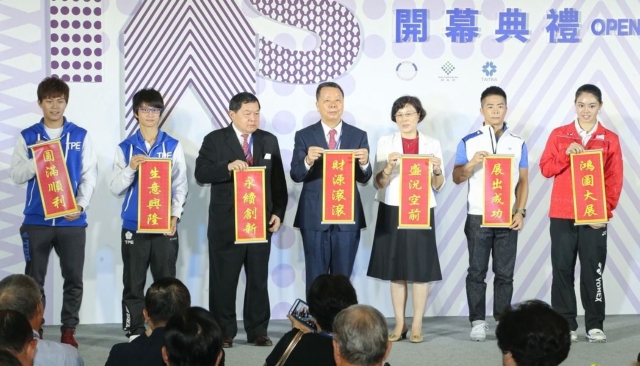 The grand opening of TITAS. (Photo provided by UDN.com)