Toyota Motor Corporation, a Japanese multinational automotive manufacturer headquartered in Toyota, Aichi, Japan, plans to launch a new hydrogen fuel cell vehicle (FCV), Fine-Comfort Ride, which, compared to Mirai, Toyota's former FCV model, provides 50 percent more of the travel range.

Toyota noted, Mirai's travel range per charge is around 650 kilometer (km) while Fine-Comfort Ride's travel range can reach to as long as 1000 km.

Also notable is that, aiming to rival against the growing Electric Vehicle (EV) trend, Toyota also features its new car model with autonomous-driving function.

This concept car coupled with artificial intelligence (AI) and autonomous-driving function will be unveiled at 2017 Tokyo Motor Show held in Japan next week.

In addition to Fine-Comfort Ride, Toyota plans to showcase Sora, a fuel cell bus (FC bus) concept, which can accommodate up to 79 people, including the driver.

Planning to hit the market next year, Sora is equipped with 8 high-definition lens and LED head lights and rear lights.

As global environmental regulation is becoming more and more demanding, an increasing number of car makers are venturing into EV industry even though lithium battery's cost is getting lower; Toyota, however, is convinced that FCV is the solution to zero-emission vision.

Although Japan, aiming to increase the total number of FCV hitting roads to 40,000 units, has formulated a road map toward the realization of a "hydrogen society", the exact number of FCV on roads by now is only around 2,200 units. An analyst of Bloomberg, a global-known news agency headquartered in the U.S, estimated that Japan can only reach 60 percent of its FCV vision.

Though it only takes 3 minutes to fuel a hydrogen car, and its travel range is longer than that of an electric vehicle, Infrastructure is an issue when it comes to promoting FCV usage; there are only 90 hydrogen fueling stations in Japan, and government plans to build 160 ones by 2020.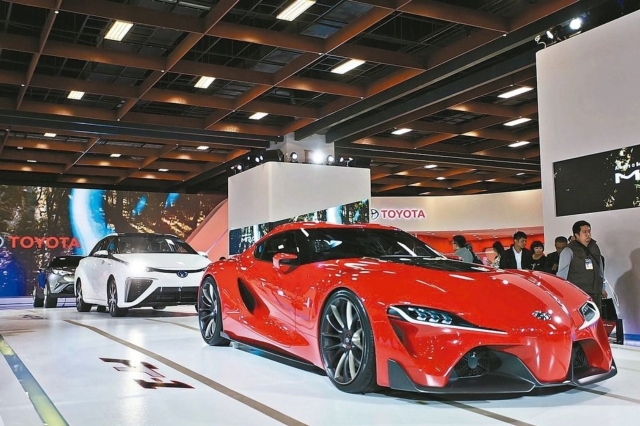 Toyota`s earlier launched FCV. (photo provided by UDN.com)