At the 30th Anniversary Celebration Forum and Concert held by Taiwan Semiconductor Manufacturing Company (TSMC), the world''''s largest dedicated independent semiconductor foundry, Jeff Williams, chief operating officer (COO) of Apple Inc., an American multinational technology company that designs, develops, and sells consumer electronics, computer software and online services, noted that biotech is the firm's next main focus in the coming decade.

Williams said Apple will build its bionic neural engine, which has been applied in the latest version of Apple Watch, into smartphones along with AI (artificial intelligence) engines in the near future.

At the forum, Jensen Huang, a co-founder of Nvidia, a globally known graphics-processor company, stressed that AI, with the ability to conduct deep-learning, will have increasingly broadening application for sure.

Aiming to establish personal big data in healthcare for end-users, Apple chooses biotech to aid individuals to do personal health management through cloud computing.

Williams added, Apple is trying to develop more apps for the third-generation Apple Watch. Being asked when the first iPhone featuring an AI system will land the market, the COO only said the new application will be exciting but without revealing any details.

Obviously holding optimism about Apple's innovating idea, Morris Chang, the founder and current chairman of TSMC, said at the event that with the personal health information recorded and provided by AI, people will be able to better foresee health problems and take proper precautions against diseases.

Also noteworthy is that the third-generation Apple Watch has an upgraded heart-rate monitor function, whose accuracy and performance are believed to reach the medical diagnosis levels.

On another front, Apple is working with a clinician from Stanford University School of Medicine, and American Well, a telemedicine firm providing solutions to health systems, health plans, employers and physicians, on joint research of the performance of an arrhythmia detector incorporated into Apple Watch.

According to American Heart Association, 2.7 million Americans died of stroke and thrombosis, due to arrhythmia.

If Apple Watch can provide accurate health information, it will become a necessary monitoring tool for millions of global patients with arrhythmia, including those of ventricular fibrillation.

A source noted that Apple, hoping to store personal medical data through iPhone in the future, has been putting resources on the study of human body and cardiovascular disease.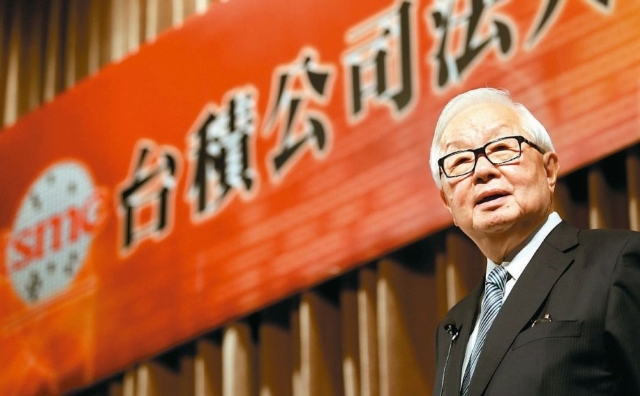 Morris Chang, the founder and current chairman of TSMC. (photo provided by EDN)