Biing-Jye Lee, chairman of Epistar, a globally leading high-brightness LED epiwafer and chip manufacturer based in Hsinchu, northern Taiwan, commented earlier that if Taiwan's LED firms can work together to build a domestic ecosystem for the production of mini LEDs by making the good use of existing advantages including strong R&D capabilities and high-productivity clusters in Taiwan's LED industry, such products will become Taiwan's ace in the hole to rival against Korea in the global market for high-end backlights.

Lee pointed out that with Apple Inc., an American multinational technology company that designs, develops and sells consumer electronics, launching its newest iPhone model featuring OLED-backlit displays, OLED's penetration rate in the global market for display backlights has increased sharply. The trend, however, has put Taiwanese suppliers in a vulnerable position, since almost all of them have given up working on OLEDs for quite a while.

Lee suggested that with ever more mini LEDs coming to the market, Taiwan's LED makers, backed by mature technology and complete supply chains, should seize the opportunity to cooperate with partners from the display industry to develop high-end display. With more competitive prices and finer performance than OLED, mini LED has great potential to replace OLED as the main source of display backlight.

Lee said that mainly due to the promotion by world's major brands, especially those from Korea, OLED has been increasingly applied in backlight, and gradually encroached on market shares of conventional LEDs over the past few years.

For the time being, Korean suppliers together dominate the global OLED market, and capably undersell Taiwanese firms of traditional LEDs in the competition for orders from backlight customers. Therefore, Lee believes that to overcome the problem, Taiwanese companies should resort to mini LEDs, given that such components can be produced at 20-30 percent lower cost than OLED, but features better performance and lower power consumption.

Lee indicated that a 55-inch TV requires an estimated 40,000 mini LEDs and a smartphone 4,000 to 9,000 ones, and emphasized that mini LED can only be produced by advanced MOCVD (metalorganic chemical vapor depositition) machines. In other words, once focusing more on mini LED, Taiwan's LED industry will be able to switch around 20 percent of existing MOCVD capacity to such products, and better compete in the higher-end backlight market.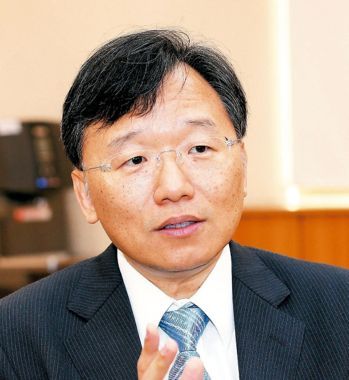 Biing-Jye Lee, chairman of Epistar. (photo provided by UDN.com)