As smart speakers have become the most heavily promoted products by several global well-received companies including Apple Inc., an American multinational technology company that designs, develops, and sells consumer electronics, and the well-known iPhone maker; and Amazon.com Inc., an American e-commerce and cloud computing company, many Taiwanese suppliers have witnessed a growing influx of orders for such products in recent months.

The additional good news to those Taiwanese suppliers is that such next-generation smart voice devices have gained growing popularity in the Japanese market so far this year, to become a tailwind for their businesses in the short term.

Among them, Hon-Hai Precision Industry Co., Ltd., the world's largest EMS (electronic manufacturing service) provider by size; and Inventec Corp., a Taiwan-based multinational company manufacturing computers, telephones, notebooks, and servers, both are expected to be the biggest beneficiaries of the product trend.

With Hon Hai already being contracted as the major assembler of Echo, the flagship smart speaker product from Amazon, Inventec has also won an order from Apple for the smart speaker "HomePod" after landing an OEM order for AirPods, a smart headphone from the same customer.

Although rumor says that Inventec may fail to deliver HomePod before this year's Black Friday shopping season that traditionally starts on Thanksgiving, insiders from the supply chain state that the supplier will be able to fill the order on time as required. The polarization of opinion on HomePod's production schedule is generated possibly because sales of the smart speaker have remained steady in other markets except the U.S., where supply of the product lags behind the sharply surging demand during the shopping season.

So far, the U.S. is the largest single market for smart speakers. eMarketer's, a website providing data and research on digital gadgets for business professionals, says Amazon holds a majority market share of around 70 percent in the U.S. It is safe to say that Hon Hai benefits the most from the smart speaker trend. Trailing Amazon's Echo, Google Home, a speaker and voice assistant made by Google, an American multinational technology company, commands a 23.8 percent share, while other competing models together share the remainder of the market.

While the U.S. has become an increasingly competitive marketplace for smart speaker vendors, Japan's smart speaker market is forecasted to take off starting this year. Fuji-Keizai Group, a Japanese leading information provider on industry and market in industrialized and emerging economies throughout the world, points out that the market for smart speakers featuring artificial intelligence (AI) has been created locally. Aeveral heavy-weight companies, namely Google, Amazon and Line, a Japan-based international instant messaging software tycoon, have stepped up promotion of their smart speaker models in the Japanese market. With ever more players joining the market, Japan's market size of smart speakers in 2017 is estimated to reach JPY 1.8 billion (US$16 million), with sales volume of an estimated 200,000 units.

Fuji-Keizai Group adds that after 2018, many multinational companies with globally known brands will strive to build solid grounds in the smart speaker market, which, in turn, will help further expand scale of the smart speaker market in Japan. According to the firm's forecast, local market demand will explosively soar to JPY16.5 billion (US$146 million) by 2025, which is 817 percent more than that of 2017.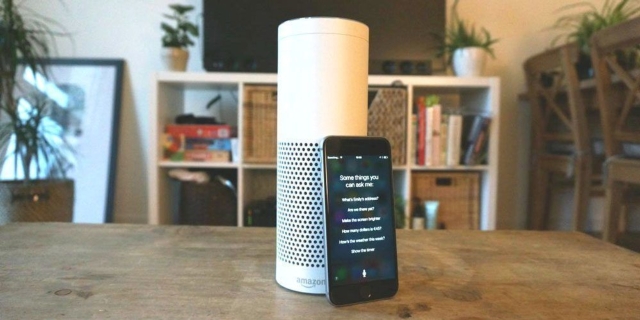 Amazon`s Echo and Apple`s Siri. (photo provided by EDN.com)