Located in Gangshan, an administrative district of Taiwan's southern metropolis of Kaohsiung, where a large number of Taiwanese fastener makers cluster, Shin Chun Enterprise Co., Ltd. started out by supplying fasteners of standardized sizes and mostly for construction, and is today a professional auto screw manufacturer in the global market.

In the face of an increasingly competitive landscape in the industry, Shin Chun has actively integrated resources from upstream and downstream suppliers, and conducted strict operations management in compliance with international standards, in an effort to stay competitive. In doing so, this company has effectively chalked up robust growth in annual revenue amid market slowdowns over the past years, with its shipments of auto fasteners to Europe, the U.S., and Japan continuously increasing.

In addition to car production, the company's fasteners have also been widely applied in construction of buildings and machinery.

Shin Chun's production facility boasts automated production capability and high productivity, achieved by nearly 40 sets of various advanced manufacturing machines employed, including precision cold forming machines, feeding tapping machines, auto sorting systems and many others. With its production lines almost already fully booked for the coming few years, Shin Chun has planned to expand its production capacity, to serve more customers.

Obviously a competent player in a big league, Shin Chun has passed certification to various quality management systems, including ISO 9001:2008, ISO/TS 16949:2009, ISO 14001, OHSAS 18001 and ISO 17025:2005.

With a shared goal to boost images and capabilities of Taiwan's fastener industry in the global market, Shin Chun and several large-sized local peers have actively worked on R&D of higher-end fasteners, such as auto fasteners and aerospace fasteners, as bellwethers in the line.

Understanding that a poor-quality fastener installed in a car would undermine drivers' safety or could incur deadly accidents, Shin Chun insists that all of its auto fasteners must be made under stringent controls in accordance with TS 16949 quality management system, to meet the criteria by world's major carmakers.

In addition, Shin Chun is capable of providing Production Parts Approval Process (PPAP) documents to its customers for manufacturability and quality requirements of the parts and components destined in automobile factories.

With outstanding production and QC capability, as well as professional services, Shin Chun has built a solid ground in higher-end segments of the global market for fasteners, and will continue to sharpen its competitive edges to assure customers of the better quality of services and products.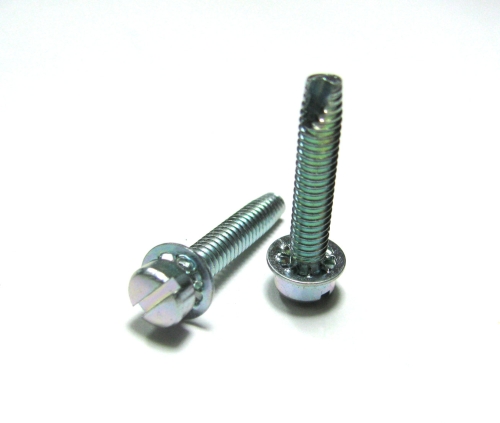 Shin Chun`s SEMS Screws (photo provided by CENS.com).