As HomePod, the first smart speaker from Apple Inc., an American multinational technology maker of globally well-known iPhone series, is scheduled to hit the market on Feb. 9, while several Chinese tech firms are going to launch their models of such a product, market insiders noted that global suppliers of corresponding parts and components, including those from Taiwan, will be able to ride the smart speaker wave to enjoy promising sales growth in the short term.

Canalys, a leading global technology market analyst, forecasted that global output of smart speakers will grow from 35-40 million units seen last year to over 55 million units this year, and show a compound annual growth rate of up to 90 percent by 2020.

Canalys estimated that Amazon has commanded a global market share of 65 to 70 percent as the largest player in the sector. Despite HomePod widely considered to be powerful competitor to its smart speaker model, Amazon is expected to hold on to its lead in the market segment this year.

With an estimated global market share of 15-20 percent, Google is believed to remain next only to Amazon, while Apple is expected to sell 6-10 million units of HomePod worldwide and snap up a market share of 10-15 percent as the third-largest supplier.

Also notable is that there will be more smart speakers to be promoted under Chinese brands in the global market, which will pose a threat to the big three companies mentioned above to some extent this year.

On the increasingly intensifying competition among branded vendors in the global market, a couple of Taiwanese suppliers of smart speaker parts and components, namely Primax, a firm making mobile devices, PC peripherals, business equipment and digital home instruments; Merry, a globally leading manufacturer of electroacoustic products; MediaTek, a prestigious fabless semiconductor company; Chicony, a maker with four major product lines including input devices, portable keyboard modules, visual and image products as well as camera lens modules; Inventec, a company that has been dedicated in the development of cloud computing, wireless communication, intelligent devices, IoT, and green energy; and Longwell, one of the world's largest producers of electronic parts and cable products, will hopefully witness their shipment and revenue significantly surge in the years to come, according to market insiders.

Among those Taiwanese suppliers, Lonewell, which has just started its smart speaker business this year, is expected to enjoy a 25-30 percent growth in revenue for 2018 compared to that of last year, based on sales forecasts of its existing customers. Fueled by above-average gross margins of its products, Lonewell's annual net profits in the year are estimated to surge by 40 percent from a year ago. In addition, the company is also believed to score a quarter-on-quarter growth of around 20 percent in revenue for the first quarter of this year, and maintain such growth momentum into the second quarter.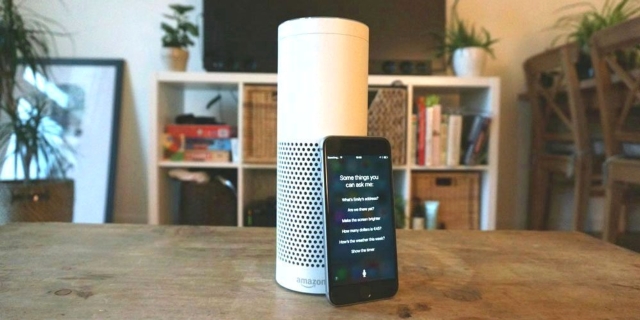 Amazon`s smart speaker "Echo" (left) and Apple`s iPhone (photo provided by UDN.com)