Earlier this year, Rita Teaotia, the secretary of Ministry of Commerce & Industry, Government of India, headed a group of five senior officials and several buyers to attend India-Taiwan Trade Forum & Business Matching Meeting held by Taiwan External Trade Development Council (TAITRA), a non-profit, Taiwanese government co-sponsored trade promotion organization, expecting that through this meeting, both Taiwan and India can jointly make mutual profits.

Eying great potential in Indian market, 30 Taiwanese companies of fasteners, hand tools and electric power equipment participated in the event, and joined over 50 procurement meetings with the Indian buyers.

Teaotia noted, Taiwan and India are complementary to each other economically. While learning from Taiwan's experience of economic development, India also sincerely invited Taiwanese firms to cooperate with local insiders from industries of petrochemical, telecommunication, textile and software design, so as to better communicate the concept of "Made in India" and enhance an exchange of technological know-how.

With India and Taiwan seeking for long-term cooperation with each other, the two countries will further strengthen the bilateral relationship through enhancing the connection of the companies from the both sides, jointly holding exhibitions, dispatching business delegations mutually, sharing market information and e-commerce platforms, and promoting bilateral trading opportunities, etc.

Thus, on the meeting, Chuang Suo-Hang, vice chairman of TAITRA, and Deepak Kumar, executive director of India Trade Promotion Organization (ITPO), as well as Suranjan Gupta, assistant chief executive of Engineering Export Promotion Council (EEPC) of India, jointly signed a memorandum of understanding (MoU) to further expand business cooperation between Taiwan and India.

Also notable is that Taiwan Industrial Fasteners Institute (TIFI), the largest non-profit organization promoting Taiwan's fastener industry, signed an MOU with Fasteners Association of India (FAI), an umbrella organization for Indian fastener industries as well. Zhang Tu-huo, former chairman of TIFI, noted that Taiwan exports 1.6 million tonnes of various fasteners annually, ranking as the second-largest supplier in the world, which underlines the high reputation given by global buyers to Taiwan's fastener products.

Chuang Suo-hang said, India is among Taiwan's target overseas markets to develop under the government's New Southbound Policy. Last year, value of Taiwan's export to Indian posted a 17 percent year-on-year (YoY) growth to US$3.3 billion (NT$97 billion), while import from India soared by 40.3 percent year on year to US$3.06 billion (NT$90 billion). Meanwhile, general trade value between Taiwan and India totaled US$63.6 billion (NT$1.87 trillion) for a 27 percent YoY growth. All the figures mentioned above indicate that the policy has gradually worked to help Taiwanese exporters extend their reach to the South Asian country, and achieve better market diversification for sustainable growth.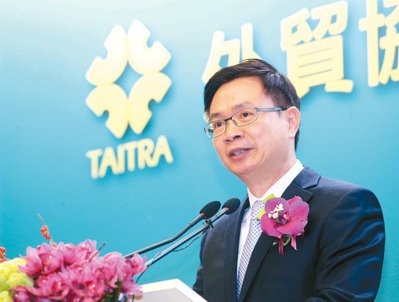 James C. F. Huang, Chairman of TAITRA (photo provided by EDN.com).