As more and more local companies have decided to pour resources into R&D of advanced robots and related technology at a time when smart manufacturing and industrial automation have become trends, Taiwan's robot industry is shaping up to have a relatively promising future.

Presently, among the foremost Taiwanese company venturing into robot production is Hon Hai Precision Industry Co., Ltd., the world's largest EMS (electronic manufacturing service) provider by size. At an interim shareholders' meeting held earlier this month, Terry Gou, Hon Hai's founder and chairman, announced that the firm has evolved from a contract manufacturer into an intelligent manufacturing company. In the coming few years, Gou emphasized, Hon Hai will set up its industrial robot R&D centers in China, Taiwan and the U.S., and roll out 200,000 industrial robots enabled by Industrial Internet of Things (IIOT). Riding the robotics wave triggered by Hon Hai, stocks of Taiwanese companies involved in such a business have been increasingly popular with investors in the local bourse.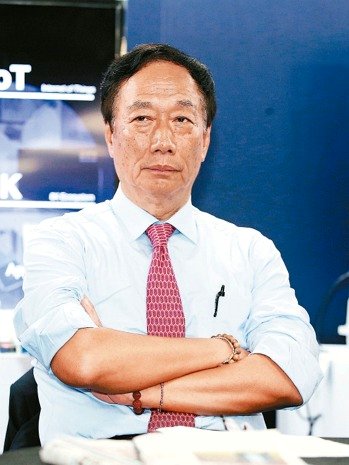 Terry Guo, chairman of Hon Hai (photo provided by UDN.com).
Industrial Technology Research Institute (ITRI), one of the world's leading technology R&D institutions headquartered in Taiwan, reported that in 2016, production value of the smart machinery industry, including robots, in Taiwan amounted to around NT$58 billion (US$1.9 billion) and is expected to break the NT$100 billion (US$3.4 billion) mark by 2020.
Market insiders noted that high-end tech products built with artificial intelligence (AI) will become one of the hottest issues in the investment market. And the 10 most popular robot-themed stocks listed in the Taiwan Stock Exchange for the time being are from Delta Electronics, Hon Hai, Quanta Computer, Mirle Automation, AirTAK, Chieftek, Hiwin Technologies, IEI Integration, Thecus Technology and Nexcom.
Fubon Financial Holding Co., Ltd., a Taiwan-based firm providing asset management services, for example, holds optimism about future prospects of Quanta Computer, the largest notebook PC ODM (original design manufacturer) in the world, considering that the firm has transformed its original business into the development of robots and AI.
While Quanta Computer claims to be capable of manufacturing nearly all the necessary components, excluding reduction gears, for industrial robots, Quanta Storage Inc., the branch company of Quanta Computer, has successfully worked out a six-axis robot with a maximum payload of 6 kilograms.
Bolstered by its thriving contract manufacturing for Apple Watch, as well as robotic arm production capability and well accepted datacenter solutions, Quanta Computer is very likely to see a stable growth in the years to come.
On another front, Hiwin Technologies, one of the world's leading manufacturers of precision machinery components, indicated that its new plant located in Taichung City Precision Machinery Innovation Technology Park in central Taiwan is scheduled to become operational starting this May as a base for pre-manufacturing process of linear-motion devices and ball screws. Another one in Dapumei Precision Machinery Park in Chiayi, southern Taiwan, will start up after the 2018 Lunar New Year.
After the phenomenal performance last year, mostly on the growing popularity of robotic arms and automation equipment worldwide, Hiwin is going to challenge a goal of NT$30 billion (US$1 billion) in annual revenue this year, which represents a 50 percent year-on-year growth over a year ago.
Meanwhile, NEXCOM, a professional provider of IoT automation solution, jointly with Energid Technologies, an engineering firm providing robotics, machine vision, and remote control software, has launched a high-end seven-axis robotic arm as the third company with the ability to produce such products in the world.
NEXCOM stated that it is confident of seeing overall sales of the advanced robotic arm, which highlights the company's newly developed controller technology and software, exceed 1,000 units worldwide in its first year of launch. With the industry-leading robotic product, the company looks to gain a solid ground in the global market for industrial robots, which has been dominated by its Japanese and European counterparts.
On the payoff of its investment in industrial automation, Delta Electronics, a global leader in power and thermal management solutions, has enjoyed continued growth in profits for the past few years. According to Delta Electronics, 12-15 percent of the firm's revenue is generated by its IA business for now.
To further enhance its presence in the era of robots and industrial automation, Delta Electronics plans to dedicate more resources to R&D of SCARA (Selective Compliance Assembly Robot Arm). Worth mentioning is that by doing so, the company can better provide related technology solutions to its manufacturing bases in Taiwan, China, and Southeast Asia.
Mirle Automation, one of the largest makers of automation system integrators and related product manufacturers in the world, witnessed its annual sales of robotic arms surpass 800 units in 2017, translated into a whopping growth of around 60 percent compared to the corresponding figure posted in 2016.
Understanding that global market demands for robotic arms and automation equipment are very likely to remain strong in the coming years, Mirle has been working on capacity expansion for the moment, and stressed that the firm will be able to double its output once its new plant in Kunshan, China, is inaugurated sometime in the near future.
Mirle also provides services of system integration and animation simulation, assisting customers to improve their manufacturing process and shorten assessment time.
Also benefiting from the global trends of industrial robots and automation equipment, AirTAC International, a well-known manufacturer of pneumatic equipment, has seen a constant influx of contract orders from customers in industries of automobiles, automation and electronics. In 2017, the company's annual revenue soared by 29.1 percent year on year to NT$13.7 billion (US$468 million), a high record.
With its seventh factory being ready for operation, market observers estimate that the AirTAC's output will increase by 15-20 percent this year, to further drive its whole-year revenue to NT$16.7 billion (US$571 million).
After chalking up an impressive year-on-year growth rate of 51.4 percent in its annual revenue for 2017, Chieftek Precision Co., Ltd., a veteran maker of linear motion components, is expected by market insiders to maintain such strong growth momentum this year, mainly because of the persistently buoyant global market for automation equipment.
Last but not least, Ennoconn Corporation, a leading industrial mother board designer and a provider of total hardware system solutions to various vertical market applications, tallied growing consolidated revenue of NT$35.4 billion (US$1.2 billion) last year, thanks to its mergers and acquisitions (M&A) strategies paying off.
For example, the firm acquired a stake of Kontron, a German firm providing embedded computing technology solutions, for NT$7 billion (US$239 million) a few years ago, and effectively netted considerable profits from the investee in the first season of 2017.
The successful investment helped boost revenue of Ennoconn, and secure the firm's leading position in the market.