After scoring impressive consolidated revenue of NT$70 billion (US$2.3 billion) last year, Fair Friend Group (FFG), the third-largest machine tool maker in the world, will kick off a corporate restructuring plan this year, to merge its 37 brands in Asia, Europe and the U.S., as well as 50 manufacturing bases, into one company, announced Jimmy Chu, chairman of FFG, at the year-end party held on February 7.

In addition, FFG will cooperate with International Business Machines Corporation (IBM), a global leading manufacturer of computer hardware, middleware and software, to actively promote some core technologies like big data, Internet of Things (IoT), and artificial intelligence (AI).

Noteworthily, the firm, while planning to list in the Taiwanese bourse by 2020, will relocate its Information Technology (IT) center to Taiwan in the near future.

Chu noted that prospects of the global market for machine tools are getting brighter, as automation has become a trend, while China's economy has continued to be driven by domestic market demands for cars and aerospace parts, plus with construction of railways and energy infrastructure.

Understanding that the global machine tool industry is very likely to be dominated by larger-sized companies in the future, the chairman emphasized that FFG, with an aim to further enhance its influence over the industry and boost presence in the global market for sustainable growth, will step up integrating all of its resources together to better compete against its rivals.

Among its 50 manufacturing bases located in Germany, Japan, Italy, the U.S., China and Taiwan, ones in China generated combined revenue of NT$28.5 billion (US$972 million) last year, up 27 percent from a year earlier. The revenue figure is expected to further mount to NT$35 billion for a 23 percent YoY growth this year, when FFG's corporate restructuring gets underway.

FFG has been recognized as the largest machine tool brand in China for two years in a row. MAG, FFG's branch, posted annual revenue of NT$12 billion (US$409 million) last year, and aims to rake in NT$13 billion (US$443 million) in revenue this year.

On another front, FFG's new plant of 460 acres in Zhengzhou, China, will start up this year, to drive up the company's overall capacity to some extent.

As to its development in the domestic market in Taiwan, Chu stated that with advanced machine tool technologies originating in its overseas branch firms, namely JOBS, SIGMA, RAMBAUDI and Pfiffner, for auto and aerospace parts production gradually transferred to FFG, the flagship company's domestic sales revenue is estimated to surge three folds this year compared to the corresponding figure attained last year.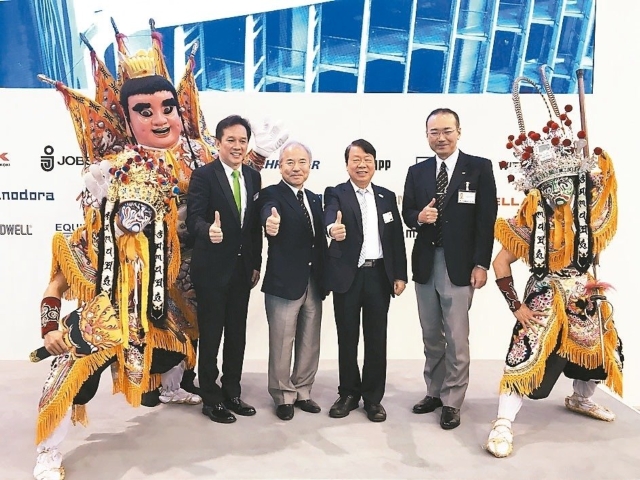 Jimmy Chu (second from right), chairman of FFG (photo provided by EDN.com).