To help Taiwan enhance presence in the global telecommunication industry, Taiwan External Trade Development Council (TAITRA), a Taiwanese semi-official export promoter, headed a group of local start-ups to join Mobile World Congress 2018 (MWC), the world's largest gathering for the mobile industry.

The show, held in the Mobile World Capital, Barcelona, Spain, from February 26 through March 1, has riveted considerable attention from business professionals from all over the world thanks mainly to the rise of Internet of Things and digital economy.

Worth noting is that MWC, with an aim to build a IoV platform for start-ups to share their experience and make profits jointly, set up an exhibition zone for startups with the theme of "4 Years From Now (4YFN)," in a hope of assisting those firms to explore opportunities to be brought by new technological applications in the near future.

Liu Shih-chung, TAITRA vice chairman, led a group of 13 Taiwanese start-ups as well as Taiwan Excellence and Computex d&I-approved enterprises to the show. It is also the first time for TAITRA to organize such an exhibitor group to 4YFN.

Themed "Smart Living", the Taiwanese startup group has showcased a slate of independently developed, innovative technologies, including smart medical treatment, smart monitoring, IoV, information security, and many others.

In addition, TAITRA assisted the group members to host Taiwan Demo Day on the 4YFN platform to attract more foreign investors through introducing the outstanding products and services that they capably provide.

During a pre-exhibition press conference, Liu noted that creating a friendlier environment to startups in Taiwan has been one of the major economic development objectives of the government.

TAITRA has organized startups exhibition zones at several major exhibitions at home and abroad, and has grouped local startups since last year to carry out related R&D programs and help enhance exchanges between them and partners outside Taiwan.


Liu emphasized that TAITRA is now striving to assist local startups to exhibit in other countries so as to create more opportunities for them to communicate with foreign partners. Meanwhile, the organization is going to invite more overseas startup groups to Taiwan to share their know-how in the field.

With the abovementioned plans already put into action, TAITRA looks to solicit more globally well-known enterprises to set up branches in Taiwan or even invest in Taiwan's startups with great potential.

Also notable is that, apart from heading a group to CES (Consumer Electronics Show), the world's gathering place for all those who thrive on the business of consumer technologies; and MWC, TAITRA is planning to enhance matchmaking between Taiwanese companies and foreign investors from Southeast Asia.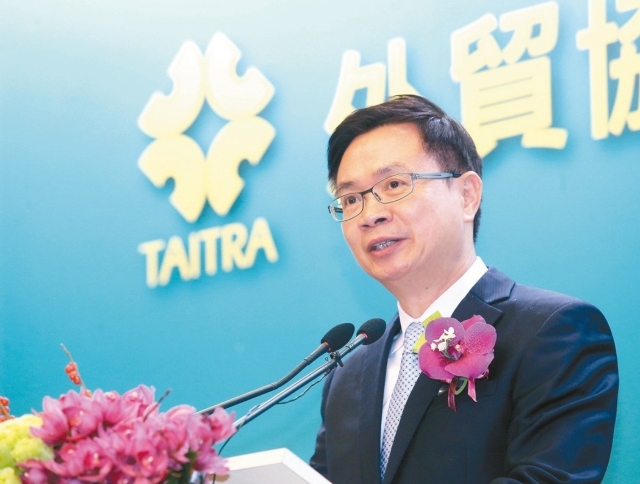 James Huang, chairman of TAITRA (photo provided by UDN.com).