With overall shipment of machine tools continuously growing, along with its newly set up intelligent production lines continually becoming operational, Hota Industrial Mfg. Co., Ltd., one of the largest precision auto transmission component makers by size in the global market, aims for consolidated revenue of over NT$10 billion this year.

It is reported that Hota's manufacturing know-how of core parts for electric vehicles (EV), including transmission shafts, has increasingly matured, which, in turn, has helped the manufacturer to snap up more orders from multiple global automakers like Tesla, BMW and many others from China.

In the face of the overwhelming orders, Hota has stepped up expanding capacity, with its budgeted capital expenditure having neared NT$3 billion (US$100 million) so far this year.

Given Hota's ongoing prosperity, market insider estimated that the company is likely to enjoy a year-on-year (YoY) growth rate of 12-13 percent in annual revenue to NT$7.6-7.7 billion (US$259-263 million) this year, while Kao Fong Machinery Co., Ltd., a subsidiary of Hota, will see a growth rate of 10 percent in revenue to NT$3.1 billion (US$106 million).

In other words, Hota group's consolidated revenue will likely reach an all-time high of NT$10.7 billion (US$366 million) this year. Noteworthily, an estimated 25 percent of the total will be generated with its automated production lines.

David Shen, chairman of Hota, said, thanks mainly to strong market demands from Europe, the U.S., and China, Hota's existing capacity has been almost fully booked in the next three years.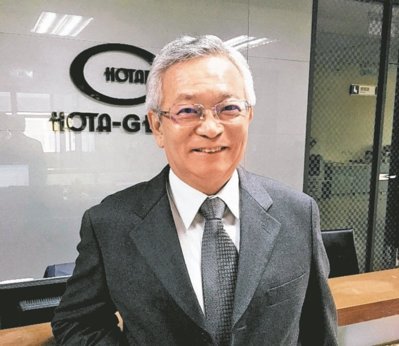 David Shen, chairman of Hota (photo provided by EDN.com).
To fulfill the continuously upcoming orders, all the production equipment in Hota's first factory located in the Dapumei Intelligent Industrial Park in Chiayi County, Southern Taiwan, is humming around the clock for the moment. On another front, Kao Fong has also actively upgraded its production lines on the concept of "Smart Factory", in a bid to better cater to massive demands from customers.
Shen said, the four AI-controlled production lines in the first plant located in Dapumei, which are mainly dedicated to rolling out parts for transmission shafts of petroleum vehicles, are running at full capacity. And each of the high-efficiency production lines creates NT$30 million (US$1 million) per month on average.
Meanwhile, the fifth, sixth and seventh AI-controlled production lines plus a heat treatment line in the first plant have activated for trial production, and are scheduled to work in full swing starting in the third season of this year. By then, each of the production lines will be able to contribute NT$33 million (US$1.1 million) per month to Hota's overall revenue. And the said lines will all produce parts for transmission shafts for EVs.
Also notable is that the second plants in Dapumei, which has received operating license recently, will establish seven AI smart production lines, all to engage in production of transmission shafts for EVs.
Of the planned seven intelligent production lines, three are scheduled to be set up continually beginning this August, with the others to be established during the second season of next year, and start up in the third season.
With the construction of the said intelligent production lines, Shen emphasized that Dapumei will become a major industrial park that clusters the largest number of AI-controlled factories in Taiwan, and Hota's production revenue by 2020 will reach NT$5 billion (US$170 million).