Living up to most market observers' expectations, HomePod, a smart speaker model developed by Apple Inc., an American multinational technology company, has got off to a good start in the U.S. market, which will likely benefit several Taiwanese suppliers involved in the supply chain in the long run.

Since launched on Feb.9, HomePod has been well-received by local consumers and effectively snapped up a share of 3 percent in the U.S. market, with nearly 90 percent of its users being satisfied with the smart speaker, according to reports by Loup Ventures, research-driven venture capital firm based in Minneapolis and New York pioneering frontier technology.

On another front, Echo, a signature brand of smart speakers developed by Amazon.com, an American electronic commerce and cloud computing company, still ranks No.1 in U.S.'s market for smart speakers with a 55 percent share,.

Although HomePod is not a match against Echo in the aspect of market shares for the time being, the former still shows great potential to become one of the hottest sellers in the market, given the impressive start it has achieved not long after its first launch.

In addition, according to the customer satisfaction survey done by Loup Ventures, 30 percent of the HomePod users polled noted that they are "very satisfied", while 59 percent said they are "satisfied" with the product. With 89 percent of its users giving positive feedback, to say the product has attained a high consumer satisfaction is stating the obvious.

Market insiders noted, compared to the smart speakers launched by Amazon and Google, HomePod's retail price is much higher, but its outstanding sound quality is worth the price, not to mention its comparatively high margin, which will contribute considerably to Apple's business performance in the short term.

The market insiders furthered that despite being intended to be promoted only in the markets in the U.S. and Germany initially, HomePod will soon be distributed to other countries sometime in the first half of this year, given that the product has proved truly popular with consumers in the said markets currently.

In an anticipation of the growing popularity of HomePod to trigger more market demands for related parts and components, several Taiwanese suppliers have geared up to fill existing orders for the moment.

A source noted that Inventec Corp., a globally known ODM (original design manufacturer) in the laptop and information and communications technology industries, who contract manufactures HomePod, has actively boosted its output by having its assembly plants work around the clock during the Chinese New Year break.

Also, Longwell, one of the world's largest producers of electronic components; and Radiant, Taiwan's first professional R&D and manufacturer of backlight modules, have kept their production facilities humming to fill orders from Apple.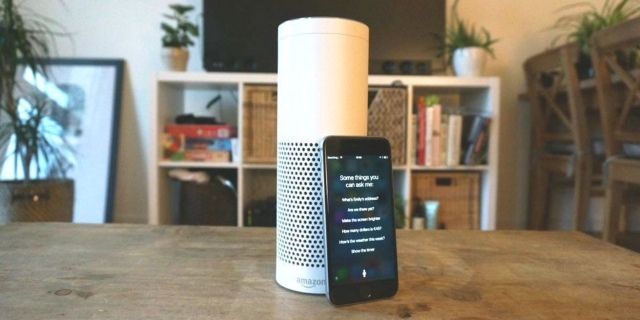 Echo (left) from Amazon and iPhone from Apple (photo courtesy of EDN.com).