Founded in 1955, ND Industries is a globally known fastener manufacturer headquartered in the U.S. Bolstered by its cutting-edge manufacturing process, the firm has effectively served many global customers, and successfully taps the supply chain Tesla, the world's electric vehicle (EV) manufacturer, with its anti-loose coating technology.

Excelling at applied technology of materials, ND is capable of providing its customers high value-added solutions for locking, sealing, insulating, lubricating, noise reduction, and vibration absorbing.

Last year, ND's branch in Taiwan, through carrying out the integration of manufacturing process, posted an impressive growth of 15 percent in annual sales, 10 percentage points more than the figure forecast at the beginning of the year, noted by Xie Zhi-hong, president of ND's Taiwan branch.

Xie said, the rosy performance could be owed to speedy delivery time and excellent quality the company offers. With technological support from the mother company in the U.S., the Taiwan branch of ND can satisfy customers from various sectors with their truly needed products and solutions.

Xie added, ND, aiming to provide its clients better services, will continue work on the integration of manufacturing process for maximized efficiency and flexibility. In addition, ND has just revealed a big technological progress in the production process of bolt nuts.

ND has put aside a large amount of resources to increase capacity, and is scheduled to roll out bolt nuts with the new technology starting in the second season, which will help further enhance the firm's influence in the line and drive higher its annual revenue in the years to come.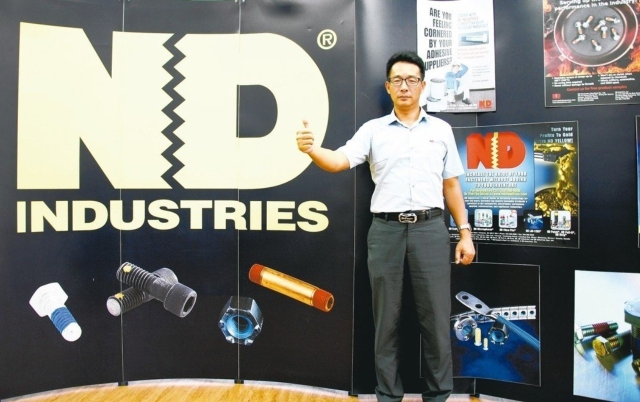 Xie Zhi-hong, president of ND's Taiwan branch. (photographed by Sam Yang)