Wang Jun-xian, the new chairman of Fu Chun Shin Machinery Manufacture Co., Ltd. (FCS), the largest plastic injection molding machine maker by output in Taiwan, has shown an ambition to further boost the company's business deployments overseas through setting branches overseas and developing niche products.

After FCS scored a new high of NT$3.389 billion (US$115 million) in revenue last year, the chairman has made a long-term plan, which is aimed at doubling the company's revenue to US$6 billion by 2020, and then making it one of the world's top 10 plastic injection molding machine builders with turnover of US$10 billion by 2025.

Wang noted that end-users of plastic processing machines mostly come from the four sectors: the food packaging industry, auto parts industry, 3C electronics industry, and household hardware industry.

Thanks to continued growth of a global population and economy, the international market for bottled water and beverages will steadily climb, and the recyclable PET material, compared to other packaging materials like aluminum and paper, will be a more economical option for companies to take advantage of. Therefore, Wang holds optimism about the future development of the plastic injection molding machine industry.

Wang said that so far, FCS owns three manufacturing plants each in Tainan, southern Taiwan, and Dongguan and Ningbo in China.

At the very beginning, the three plants were engaged in different market segments without coordinating with each another. For example, the plant located in Taiwan was dedicated to supplying domestic and overseas customers, Dongguan plant mainly filled orders from Taiwanese downstream manufacturers, and the manufacturing base in Ningbo focused on markets in eastern China and other countries.

However, the market segmentation resulted in many technological issues. For instance, each plant only produced machines that meet the requirement of its specific market segments, so shop drawings and specifications of plastic injection machines from the three plants were inconsistent, which, in turn, increased unnecessary costs on production and inventory management.

To solve the problem, FCS decided to integrate shop drawings and manufacturing process of the three plants so as to provide machinery with consistent specification, and to concentrate inventory to Ningbo in a response to the increasing duties imposed by the Chinese government on imported machinery parts and components.

The maneuver has enabled the plant in Taiwan to spare more resources on R&D and production of high value-added machine models.

Wang stressed that the series of Two Component Machine, which are mainly applied in production of notebooks, home appliances, hand tools and auto parts, have become FCS's main products. Therefore, the firm's plant in Ningbo is now in charge of manufacturing Two Component machines and standard machine models with clamping force of over 350 metric tons; while the base in Dongguan is making sub-350-ton machine models. And now, the Taiwan plant mainly focuses on the R&D and production of Two Platen Machine, which calls for higher technological levels to produce.

To fill steadily increasing orders from new customers, FCS has invested considerably in factory expansion. For instance, the company just spent NT$570 million (US$19.4 million) expanding the Ningbo base by constructing a new factory spread over 4,580 square meters. Additionally, it will also put aside NT$114 million (US$3.9 million) to procure five precision machines.

On another front, FCS' plant one and plant two in Dongguan has just started to operate in the beginning of this year. The company plans to finish setting up its plant three and plant four by this June. The total invest amount of FCS to Dongguan plant was NT$50 million (US$1.7 million)

Last year, FCS witnessed its annual revenue surge by 19 percent year on year to NT$3.389 billion (US$115 million), of which NT$2.838 billion (US$97 million) were attributable to its plastic injection molding machines.

FCS has sold its plastic injection molding machines to Taiwan, China, East Asia, the U.S., and Europe. Note-worthily, sales in the Chinese market alone contributed NT$1.7 billion (US$58 million) to the company's 2017 revenue.

To further increase sales, Wang emphasized that FCS must try to explore new customers in other countries or areas. Thus, the firm will see the markets where it suffers from anemic sales growths as the main targets to explore. Also, the company is setting up more customer service points overseas to provide timely services to customers in other countries.

By now, FCS has planned to set up branches in Indonesia and Thailand and offices in the Philippines, Vietnam and Indonesia. It will also hire and train students from abovementioned countries before sending them back to their hometowns as formal employees of FCS.

Worth-mentioning is that chairman Wang is actively looking for partners to explore the market in Russia and Brazil.

Wang said that with 20 agencies and 30 branches established around the world for the moment, FCS is going to set up three more branches this year.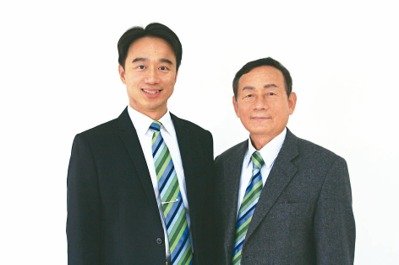 Wang Jun-xian (left), the new chairman of Fu Chun Shin. (photo provided by EDN.com)