Tesla, the world-known electric vehicle (EV) maker, has added pressure to the already limited supply of neodymium since the firm turned to a magnetic motor using the said rare earth in its Model 3 long-range EV.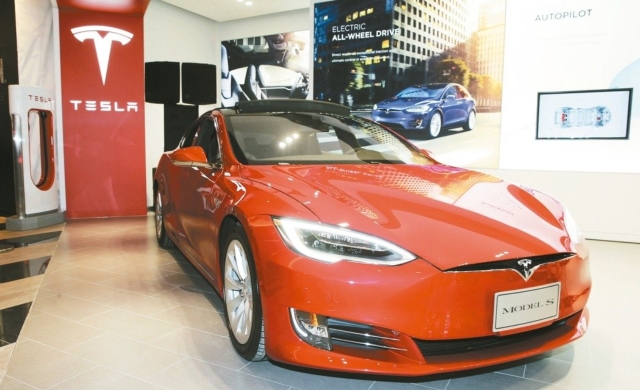 Tesla`s Model S. (photo provided by UDN.com)
To further reduce the volume of petroleum cars and carbon emission, ever more countries around the world have increased their demands for lithium and cobalt, the key elements for the production of batteries for EVs, to develop electric cars.
But now, the spotlight shifts to neodymium. Some automakers like Tesla, Toyota, Nissan, BMW, and Geely, have started to manufacture their EVs with permanent magnetic motors using neodymium, since the motor is lighter, stronger and more efficient than induction motors that are based on copper coils.
iamrc, an international research group, noted that, the global market for neodymium-iron-boron magnets used in permanent magentic motors has reached US$11.3 billion (NT$330 billion) at an annual compound growth rate of 8.5 percent over the past seven years.
However, supply of the popular metal earth seems not sufficient at all. David Merriman, a supreme analyst from Roskill, a metal consulting firm, said that global demands for neodymium last year reached 31,700 tons, which was far more than estimated supply of 3,300 tons in the year. It is forecasted that market demands this year will increase to 34,200 tons and climb to 38,800 tons by 2019, to cause more severe shortages.
The price of neodymium now is US$70 (NT$2000) per kg, up 40 percent over than as seen at the end of 2017.
China, the biggest producer and exporter of neodymium, has just resumed export of the rare earth in 2015, but with very strict export quotas. The country explains that it wants to reduce the pollution caused by mining and protect the environment.
Despite pouring a great amount of money into the R&D of rare earth processing, China has put strict regulations to some highly polluting industries like mining and smelting and the action is forecasted to reduce the supply of the popular resources.
In fact, some companies like Rainbow, a mining firm located in Londonl; Namibia, a Canadian firm that provides rare earth; and Spectrum, a resource development company whose focus is the commercialization of mineral assets, are mining rare earth outside China.
However, automakers that manufacture EVs with permanent magnetic motors still have to depend on China very much. According to Roskill, China contributes 85 percent to total production volume of rare earth, or an equivalence of 161,700 tons, in the world annually.