To help upgrade Taiwan's traditional manufacturing industries, Metal Industries Research Centre (MIRDC), a Taiwanese government-funded R&D institution, inaugurated Traditional Industry Innovation Center (TIIC), a program initiated by Ministry of Economic Affairs (MOEA), on March 20, 2018.

Many officials and celebrities, including Kung Ming-hsin, Deputy Minister of Economic Affairs; Lin Ren-yi, chairman of MIRDC; Tseng Wen-sheng, director general of Economic Development Bureau of Kaohsiung City Hall, and many others, attended the inauguration ceremony to jointly celebrate the major event in the industry.

Through developing and transferring value-added technologies to local manufacturing companies, TIIC is aimed at further enhancing the competitiveness of domestic traditional manufacturing industries.

Lin Ren-yi, chairman of MIRDC, said that the Additive Manufacturing Center in TIIC can provide some necessary services, including R&D of products and trial production, to assist local manufacturing companies to step up prototyping during production, as well as to promote the use of 3D printing technology in the domestic metal and related industries.

In addition, TIIC's Metal Intelligent Manufacturing Center is set up to aid traditional manufacturing industries to establish smart manufacturing lines, while the CAE Cloud Service Center in TIIC's building will share CAE technology through cloud to help sharpen R&D capabilities of small- and medium-sized enterprises in the industries.

Also notable is that the Trial Production Center is designed to provide trial production services for metal products. Through integrating production processes including product design, material application, trial production process and production inspection, the center will give traditional manufacturing companies the ability to kick off mass production of new products within the shortest time possible.

During the inauguration ceremony, MIRDC signed a memorandum of understanding (MOU) with Microsoft, an American multinational technology company, and FESTO, a German multinational industrial control and automation company.

With the support of MOEA, TICC will take advantage of the integrated resources from industries, universities and research institutes to serve as a "hub" and provide all-around industrial upgrading services dubbed "Co-Lab", "Co-Value" and "Co-Design".

Through developing new materials and new manufacturing process, working with other industries, conducting trial production, and inheriting experiences, the center will able to make Taiwan's traditional manufacturing industries more competitive and help boost added-value of the industries.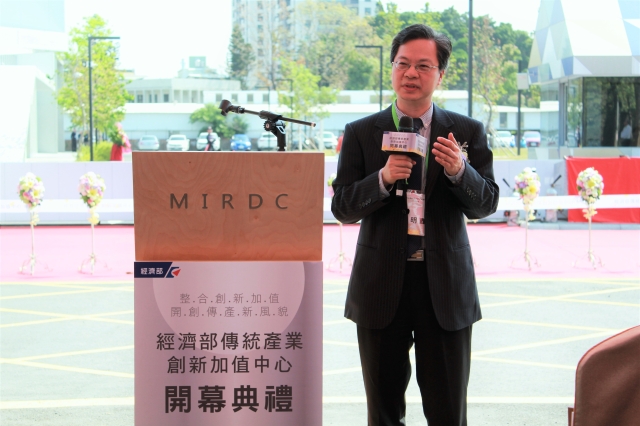 Kung Ming-hsin, Deputy Minister of Economic Affairs. (photo provided by MIRDC)