The upcoming Taiwan International Fastener Show 2018, scheduled from April 10 through 12 at Kaohsiung Exhibition Center in Taiwan's southern metropolis of Kaohsiung, will host 415 exhibitors with 1,107 booths and 2,000 overseas buyers from 75 countries, to not just retain its reputation as Asia's second- and the world's third-largest fastener exhibition, but continue to lead the way for Taiwan's fastener industry.

The registered exhibitors include such globally prestigious Taiwanese fastener makers as Chun Yu Group, the world's biggest supplier of rivet fasteners in scale; Anchor Fastener Industrial Co., Ltd., a firm dedicated to manufacturing high quality fasteners for the construction, automotive and electronic industries; Jinn Her Enterprise Co., Ltd., a fastener manufacturer with extremely high capacity; and Ying Ming Industry Co., Ltd., a professional high tensile fastener maker.

Regarding the biennial trade fair, which was by inaugurated Taiwan Industrial Institute (TIFI) in 2012 and will celebrate its fourth anniversary this year, Tsai Tu-chin, TIFI chairman, is optimistic about the exhibition's continued success. Justifying his optimism, the chairman noted at a pre-show press conference held earlier that the global market size of auto fasteners will grow by 15 percent this year, which will help create a better buying atmosphere in the show. Chang Tu-huo, chairman of Anchor Fastener and TIFI's ex-chairperson, stressed that Taiwan's fastener industry should make good use of its cost advantage and strategic positioning to cultivate new talents and develop innovative products with high added-value, and take advantage of Taiwan International Fastener Show to build connections with the global market.

On another front, Tsai Yong-yu, chairman of Jinn Her, said that a fastener is an earthy but substantial component in human's society, and the quality of Taiwan's fastener products are well-recognized by professionals all over the world.

Meanwhile, Lin Hui-cheng, chairman of Chun-Yu, added that although prices of raw materials for fastener products have continuously hiked for the years, the fastener industry in Taiwan has still witnessed enviable growths in output value, exports and average export prices, all of which underline the strong competitiveness of Taiwanese fastener suppliers in the global market.

As industrial 4.0 and smart manufacturing are becoming trends in global industry, ever more exhibitors at the show have turned to showcasing higher-end products to impress visitors with their R&D achievements and technological capability. The transition is expected to continue at this year's Taiwan International Fastener Show.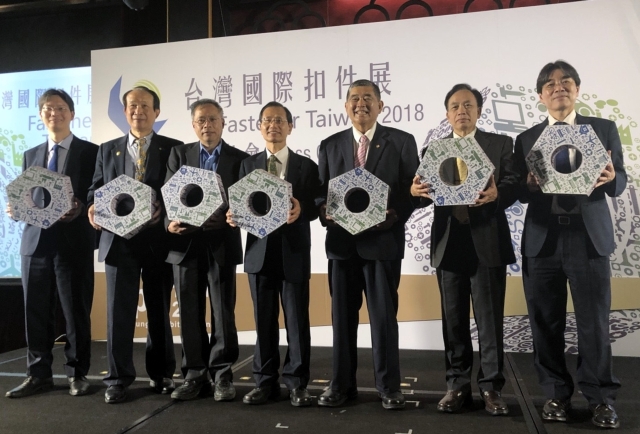 VIPs came to the pre-show press conference to promote the coming Taiwan International Fastener Show. (photographed by Yang Chen-chou)