With a bigger exhibitor turnout and a large number of visitors and overseas officials on the first day, Smart City Summit & Expo (SCSE), held on Mar 27 through 30 at Taiwan Nangang Exhibition Center Hall 1, proves to be a professional B2B-oriented platform, where an optimistic buying atmosphere has been felt over the past days.

SCSE has been the largest exhibition for the application of Internet of Things (IoT) in Asia; meanwhile, it also serves as the platform for the countries to exchange experience with each other.

Taipei Computer Association, a Taiwan-based association that mainly promote the information technology (IT) industry of Taiwan, noted that the show attracts 210 exhibitors manning 1,050 booths this year, representing a 17 percent growth as compared to last year.

Also notable is that an estimated over 1,200 professional buyers from more than 50 countries, up 18 percent compared to last year, will come to the show as well. Meanwhile, the number of visiting officials from other countries has more than doubled since the last edition to hit a new high.

"Building Smart Cities on the IoT" is the theme of the exhibition this year. As IoT and big data analysis are regarded as the cores in the development of a smart city that can provide intelligent applications, the spotlight at the trade fair has turned to a large number of well-known Taiwanese companies that can provide related solutions.

The companies include, United Microelectronics Corporation (UMC), Taiwan's first semiconductor company; Taiwan Semiconductor Manufacturing Company, Ltd (TSMC), the world's largest dedicated independent semiconductor foundry; MediaTek, a Taiwanese fabless semiconductor company that provides system-on-chip products; Realtek Semiconductor Corp., a fabless semiconductor company; Accton Technology Corporation, a company in Taiwan that principally engages in the research, development, manufacture and distribution of Internet access products; Acer Inc., a Taiwanese multinational hardware and electronics corporation specializing in advanced electronics technology; and other firms.

Noteworthily, Accton has unveiled its newly developed 400G open switches on the 2018 Open Compute Project (OCP) summit organized by Facebook, an American online social media and social networking service company. With the new products set for launch in the global market by the end of this year, Accton is likely to chalk up significant growth in sales revenue next year.

On another front, Acer, aiming to build a solid ground in the educational and commercial market segments, is focusing on the development of cloud services for enterprises. The firm is actively cooperating with internet companies like Microsoft and Cisco to offer cloud services and computer renting services that are designed to assist business users to upgrade their operating efficiency and competitiveness.

Also notable is that Acer projects its market share of commercial laptops in United Arab Emirates to sharply surge from 2 percent to 15 percent by the end of this year. It also holds optimism about market outlooks of gaming computers in East Africa, since Acer's gaming computer sales there have shown a phenomenal growth rate that is two to three times higher than the market average.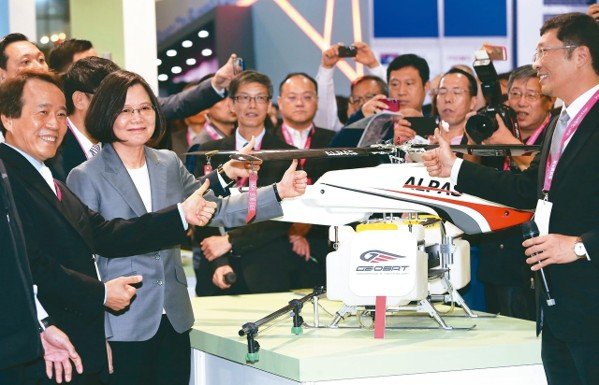 Tsai Yi-wen (second from left), President of Taiwan, also attended SCSE to show her support to the development of Smart City Solution. (photographed by Hsu Zao-xuan)