Hong Yu Industrial Corp. began contract manufacturing various flexible hoses and brass fittings for bathroom faucets in 1990, and today is one of Taiwan's globally recognized manufacturers of this kind with business reach spread over the seven continents of the world.

With decades of experience in contract manufacturing for larger-sized bathroom fitting and accessory suppliers at home and abroad, Hong Yu accumulates extensive knowledge of production and metal material prosperities, and consistently upgrades its facilities to meet customer's demands.

Integrated in-house production is the biggest competitive advantage of the company. This maker can satisfy customers with all-around production services from designing, developing and prototyping to manufacturing, assembly and pre-delivery inspections. This helps not just enhance efficiency in production but also secure qualitative consistency and rapid, on-time delivery.

Bolstered by this advantage, the company has effectively built a solid profile as a competent, trustworthy OEM (original equipment manufacturer) and ODM (original design manufacturer) among customers worldwide, claiming that all customers' new designs can be materialized through its production into marketable products.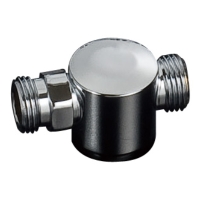 Sample of Hong Yu`s pipe coupling.