He points out building OEM partnership as a savvy strategy for Taiwanese suppliers trying to penetrate U.S.'s powersports market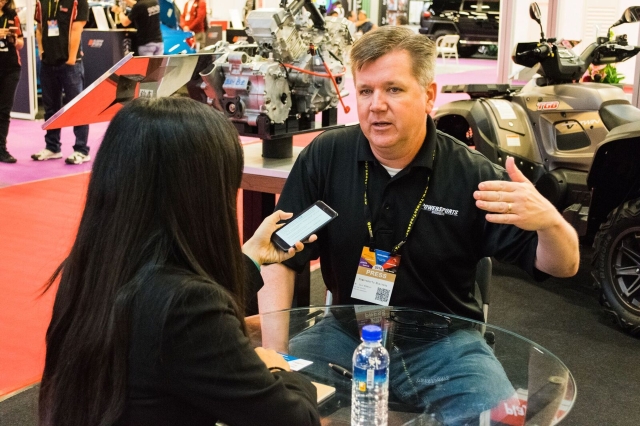 Dave McMahon, PSB`s editor-in-chief, received an exclusive interview with CENS at this year`s Motorcycle Taiwan.
During his visit to the Taiwan International Motorcycle Industry Show 2018 (Motorcycle Taiwan 2018) that ran from April 12 through 15, Dave McMahon, editor-in-chief of Powersports Business (PSB), was interviewed exclusively by CENS to share his views on the current development and outlooks of the powered two-wheeler market in the U.S.
While the magazine PSB is one of the most reliable sources of news for the powersports sector in the U.S. and circulated in both print and digital editions, its editor-in-chief is a well-respected expert with extensive knowledge of the industry and a keen observation of market development in the real world.
In the scenario, McMahon was therefore invited by Taiwan Golden Bee Co., Ltd. to the seminar "Turning New U.S. Powersports Business Opportunities," a concomitant event of Motorcycle Taiwan 2018, as a keynote speaker. Through informational lectures by local experts from the country, the organizer Taiwan Golden Bee, one of the world's major branded manufacturers of ATVs (all-terrain vehicles) and having marketed its products to over 40 different countries of the world under its "TGB" brand, looked forward to motivating Taiwanese powersports vehicle makers to work more closely with one another through resource integration, and then figure out effective ways to explore the foreign market collectively.
At the beginning of the exclusive interview, McMahon stressed that the U.S. is the largest market for ATVs and UTVs (utility vehicles) and still retains a certain amount of growth momentum. For example, he mentioned, overall UTV sales in 2017 showed a 5-7 percent increase from a year ago, while per capita spending on related parts and accessories amounted to US$1,098, with the 10 best-selling categories including body parts, winch assemblies, snow sweeper parts, tires, wheels, control systems, electrical parts, windshields, storage boxes, and batteries.
On characteristics of the market segment, McMahon commented that in the face of barrage promotions of various powersports vehicles by different brands, most of local consumers still prefer domestically made models despite pricey, mainly in consideration of the comparatively fine quality, high durability and innovative functions they offer.
McMahon indicated that another interesting observation of local consumer behavior in the segment is the buying tendency for fine-tuning, performance parts and accessories, simply for the sake of personalization, which is especially significant among young people. Taking effective marketing strategies with strong awareness of the buying behavior, Harley-Davidson, one of the prestigious brand names in the global market for motorcycles, therefore has commanded the dominant market share of 31 percent. Trailing Harley-Davidson are Honda and Yamaha, who have scrambled for the No.2 spot against each other. The competitive landscape suggests the little room left to newcomers for sustainable development.
McMahon admitted that although overall sales of powersports vehicles in the U.S. have gradually shrunk over the years for a couple of reasons, global market outlooks of such equipment, however, are expected to turn increasingly bright in the next five years. He pointed out that such South American nations as Columbia and Brazil, as well as China, India and other emerging countries, will together lead an anticipated growth of the global market in the time span.
To provide advice to Taiwanese suppliers with attempts to tap the U.S.'s powersports vehicle market around the end of the exclusive interview, the editor-in-chief said that they should focus on developing OEM (original equipment manufacturing) or other niche products, instead of competing with their branded powersports vehicles, at the very beginning, so as to fend off overwhelming rivalry from major players.
He added that Taiwanese companies can also join motorcycle and related associations in the U.S. to take advantage of organizational assistance and support, so as to establish connections to local resources with the least possible effort, while reducing investment risks in the market to minimum.