One-day concurrent event will feature Informational lectures with various topics, which are expected to inspire Taiwan's medical equipment and assistive device makers to ride global tech trends.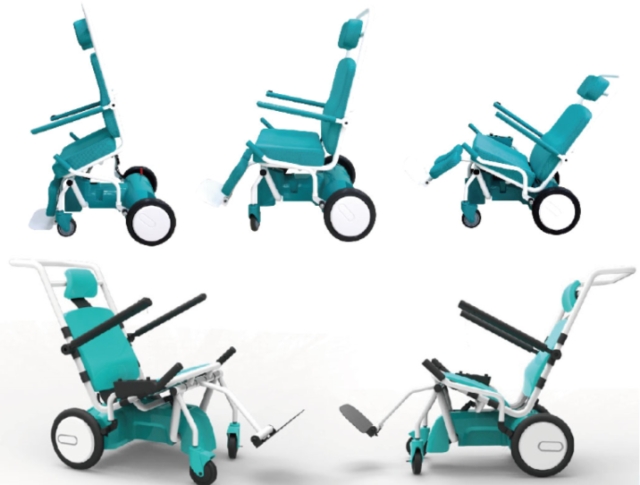 The multifunctional reclining wheelchair developed by FRT and its partners for older adults (photo courtesy of FRT).
Commissioned by Bureau of Industrial Development under Ministry of Economic Affairs, the Taiwan-based Footwear & Recreation Technology Research Institute (FRT) is going to hold "AI Medical Treatment and Elder Care Development Trend Seminar" in Conference Room 2 of TWTC Exhibition Hall 1 during this year's MEDICARE TAIWAN and SenCARE.
With a slate of in-depth, inspirational lectures to be given by industry experts, the seminar aims to motivate more Taiwanese makers of medical equipment and assistive devices to try to upgrade their products with trendsetting advanced technologies, and thereby to work out newer and more competitive models that are truly suited for the elderly in the era of artificial intelligence (AI).
To industry insiders, the seminar offers an absolutely invaluable educational opportunity, for its invited lecturers include S.Z. Chen, the chief technology and strategy officer for Microsoft Taiwan, who will talk about how AI urges digital transformation of medical services; J.D. Tsai, chairman of Furuto Medical & Welfare Co., Ltd., whose lecture will touch on application of smart technologies in reablement and wellness in an aging society; K.L Wong, vice president of Taiwan Stipendiary Co., Ltd., with a lecture focusing on smart community care for the elderly; and H.P Huang, who doubles as professor of National Taiwan University and chairman of Taiwan Automation Intelligent and Robotics Association, and will discuss the development and trends of medical robots.
Meanwhile, FRT, which boasts rich know-how of assistive devices and keen observation of the market segment, will also participate in this year's MEDICARE TAIWAN and SenCARE as an exhibitor, to display and promote at its booth on the showground a variety of innovative assistive devices developed jointly with local partners using mobile health technologies for the rehabilitation and care of the aged and disabled.