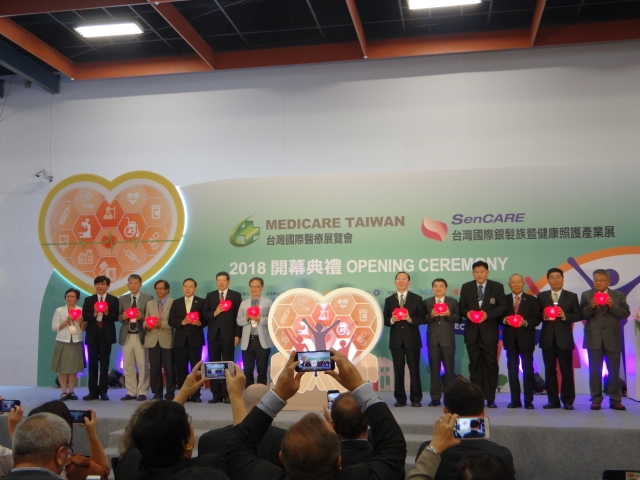 The joint opening ceremony of MEDICARE TAIWAN and SenCARE 2018 drew a large number of celebrities and media agencies at home and from abroad.
The day June 22 saw the grand opening of the 2018 MEDICARE TAIWAN and SenCARE, held June 21-24 in TWTC Exhibition Hall 1, with professional buyers and media agencies in a large crowd from outside Taiwan, continually flocking into the venue for a close look at the impressively diverse line of exhibits and innovations on display, which combined to represent the thorough supply chain of Taiwan's healthcare industry.
At the joint opening ceremony, Walter Yeh, TAITRA's executive president, stressed this year's MEDICARE TAIWAN and SenCAREn were joined by local healthcare service providers and smart system developers for the first time, achieving an exhibitor turnout of 408 with 868 booths used on the showground, both the figures higher than those in the last edition. To enable visitors and buyers to better experience in Taiwan's well-developed healthcare ecosystem, TAITRA organized several "first-ever" exhibition zones and activities, to add sparkle to the trade fairs.
For instance, Yeh mentioned, the "Medical Service" exhibition area was set up the first time to highlight 32 hospitals, specialty clinics and healthcare institutions; the inaugural "Emergency Room Scenario Station" was worth visiting for displaying 75 different kinds of Taiwan's homegrown EMS devices and supplies with the simulation of a real-world emergency room to make a deeper impression on visitors; and "Taiwan Medical Specialty Alliance" would help interested visitors discover the island's remarkable achievements in many medical specialties in an scheduled upcoming specialized seminar on the third day of the trade fairs.
Yeh added that an estimated 1,200 professional buyers from over 60 different countries of the world, including delegations from the Philippines, Thailand, Vietnam and Cambodia, were invited by TAITRA to the trade fairs, whose arrival was expected to create a positive buying atmosphere and generate considerable business opportunities at the venue.
In his opening speech, Hsueh Jui-yuan, Deputy Minister of Health and Welfare, said that Taiwan has become an aged society since the ratio of people aged 65 and above to local total population stood at 13% this March. With such a ratio expected to hit 20% by 2026, Hseuh emphasized, the development of a more efficient, effective care service delivery system incorporated with applied technologies and innovative assistive devices but without much manpower involved is very likely to become a trend in the industry, which was reflected by the exhibits and events at this year's MEDICARE TAIWAN.
On another front, the deputy minister continued, in light of the solid global reputation of Taiwan's healthcare industry, the government has actively assisted insiders to explore cooperation opportunities overseas and pinpointed several countries in Southeast and South Asia as destinations.
Also looking at the great potential of Taiwan's healthcare sector with optimism, Bureau of Foreign Trade Deputy Director-General David Hsu stated at the ceremony that after including the sector in its "The 5+2 Industrial Transformation Plan," the government has been assisting insiders to develop innovative biomedical technologies and apply AI (artificial intelligence), IoT (the Internet of Things) and other advanced technologies in operations to achieve medical automation, while urging the clustering of local specialty medical service providers.
In the meantime, Hsu went on to say, Bureau of Foreign Trade has also grouped some of them as exhibitors to world's major medical trade fairs to tap foreign markets over the years. Through providing necessary support in the forms as mentioned above to the local healthcare sector, the government looks forward to making it another "Trillion-dollar" industry on the island.